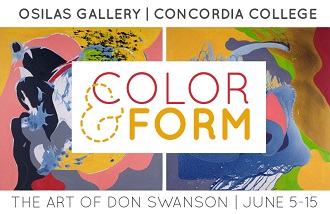 By Elizabeth Vranka, Executive Director, OSilas Gallery at Concordia College
May 29, 2019:  OSilas Gallery at Concordia College is pleased to present the first solo exhibition of paintings by Don Swanson, which will be on view June 5 to 15. An opening reception, free and open to the public, will be held on June 4 at 7:00 pm.
For more than four decades, Swanson has called The Frick Collection in New York City his professional home, rising to become the institution's chief of collections preservation and graphic designer. Although he retired from his position in preservation in 2017, Swanson continues in his role as the Frick's graphic designer. Throughout his multi-faceted career at the Frick, Swanson pursued his private passion for painting. Color and Form: The Art of Don Swanson is his first major solo exhibition; it features twenty-six oil paintings, and OSilas Gallery is delighted to present it.
All works on view will be available for acquisition, with prices available upon request.
Swanson's paintings are abstract, contemplative and vibrant. Swanson says his paintings celebrate the "joy of color and surfaces." He likes to work in "layers of glazes – the finished effect creates a sense of depth and ambiguous space." The many techniques he employs create texture and tension, evoking the viewer's interaction and interpretation of the forms along with the joy of color. 
Swanson received his BFA in painting from Miami University, Oxford, Ohio, and did graduate work at Kent State University. He studied with artists Walter Darby Bannard, Don Eddy, and Larry Zox.  He counts among his artistic influences Henri Matisse, Willem de Kooning, Arshile Gorky, Frank Stella, and Elsworth Kelly.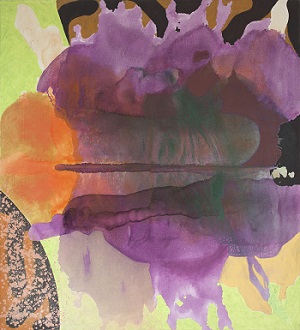 OSilas Gallery is located on the campus of Concordia College, 171 White Plains Road, Bronxville, in the Donald A. Krenz Academic Center on the second level of Scheele Memorial Library. Free and ample parking is available on campus and is accessible via entry on Concordia Place off White Plains Road.
Gallery hours are Tuesday to Saturday, 2:00 to 5:00 pm (closed June 12 and 13 for a private function) and by appointment by contacting Executive Director Elizabeth Vranka at  CLOAKING . Please see osilasgallery.org for more information about exhibitions, special events, and programs.
OSilas Gallery integrates the visual arts into the cultural and educational life of the Concordia College campus and surrounding community by providing quality exhibitions and programs that are diverse in style, content, and media; memorable, thought-provoking, and spiritually enriching; and of artistic originality, integrity, and excellence.
Editor's note: As a public service, MyhometownBronxville publishes articles from local institutions, officeholders, and individuals. MyhometownBronxville does not fact-check statements therein, and any opinions expressed therein do not necessarily reflect the thinking of its staff.