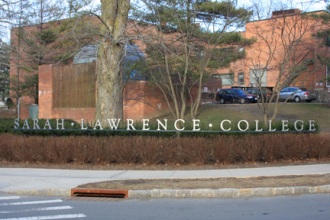 By Ellen de Saint Phalle, Director of Community Relations, Sarah Lawrence College

Apr. 17, 2019:  Sarah Lawrence College MFA Writing Program is delighted to present the 2019 Poetry Festival, April 26, 27, and 28, on the Sarah Lawrence campus. The festival features a roster of illustrious poets including Anne Carson, Suzanne Gardinier, Jorie Graham, and Aimee Nezhukumatathil. R.A. Villanueva and Ilya Kaminsky will both read after the opening reception, at 6:00 pm in Heimbold Visual Arts Center.
Other poets include Hala Alyan, Jos Charles, Eduardo C. Corral, Safia Elhillo, Matthea Harvey, Marwa Helal, Kathleen Hill, and Cameron Awkward-Rich. Since 2003, the Sarah Lawrence College Poetry Festival has presented emerging and established poets from across the country alongside current Sarah Lawrence undergraduate and graduate student readers. The festival was founded by students and continues as a student-run endeavor to bring a wide array of contemporary poetic voices to campus and celebrate the art form.
Participants will enjoy craft talks, panels, book signings, receptions, open mics, and more. All events are free and open to the public, but registration is requested.  For a complete schedule of events and registration information, go to slc.edu/poetry-festival.
Pictured here: Top: Sarah Lawrence College (photo by N. Bower); second photo courtesy Sarah Lawrence College. 
Editor's note: As a public service, MyhometownBronxville publishes articles from local institutions, officeholders, and individuals. MyhometownBronxville does not fact-check statements therein, and any opinions expressed therein do not necessarily reflect the thinking of its staff.