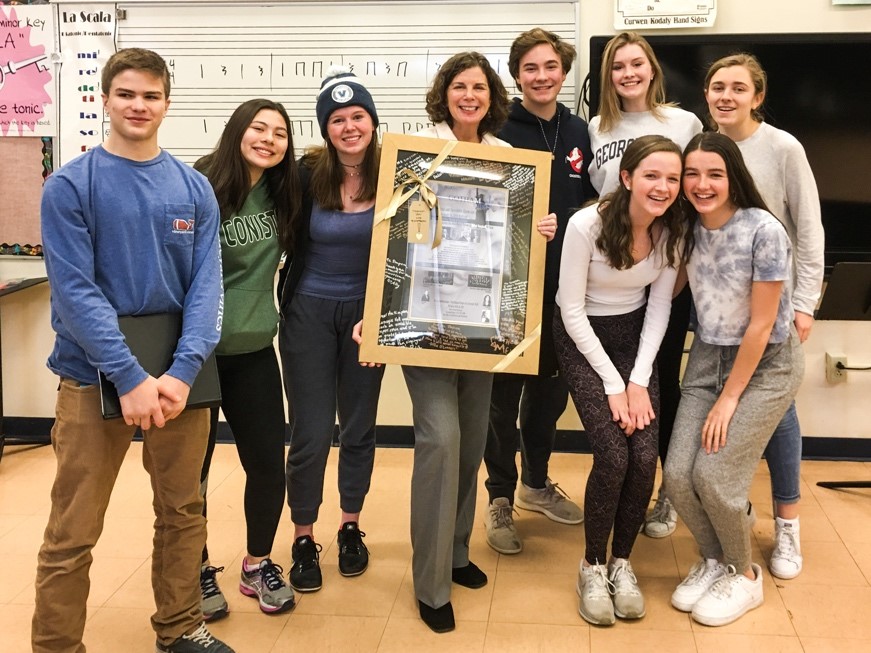 By David Fenner, Bronxville School parent

Mar. 13, 2019:  For sixteen Bronxville high school students, this Presidents' Day vacation week began with a thrill that typically rewards only the most recognized professional singers, an evening performance as the featured artists at Carnegie Hall.
It was cold and windy in New York City on Saturday, February 16. Less than a week before, three-quarters of the group from Bronxville had closed their very successful run of Little Shop of Horrors and were nursing tired voices and sore throats, some fighting back the flu, yet spirits were high for what was to come. Their chorus director, Pamela Simpson, had arranged a unique opportunity for the choral singers, one in which she would not be in front of them conducting but among them singing 
"I got a call last September asking if any of my singers would like to participate in the Gotham Sings! Festival Chorus and Orchestra performance at Carnegie Hall. I'd been asked in years past, but for one reason or another, it was never possible," said Simpson in her Bronxville High School classroom. "This time, the stars were aligned. The spring musical was done early; it was only a day into vacation; the conductor and the repertoire all combined to make this an opportunity I really wanted our singers to be a part of."
The conductor was Craig Jessop, the distinguished former music director of the Mormon Tabernacle Choir and founding dean of the Caine College of the Arts at Utah State University. The repertoire was Vaughan Williams's "Dona Nobis Pacem," augmented for length with Mack Wilberg's Requiem aeternam, the introduction to his Requiem, and Wilberg's arrangement of David Warner's "Let Peace Then Still the Strife."
"This was a massive opportunity to perform a major choral work that we otherwise could never do given its size and difficulty," said Simpson. The full chorus was 203 singers with a 40-piece professional orchestra.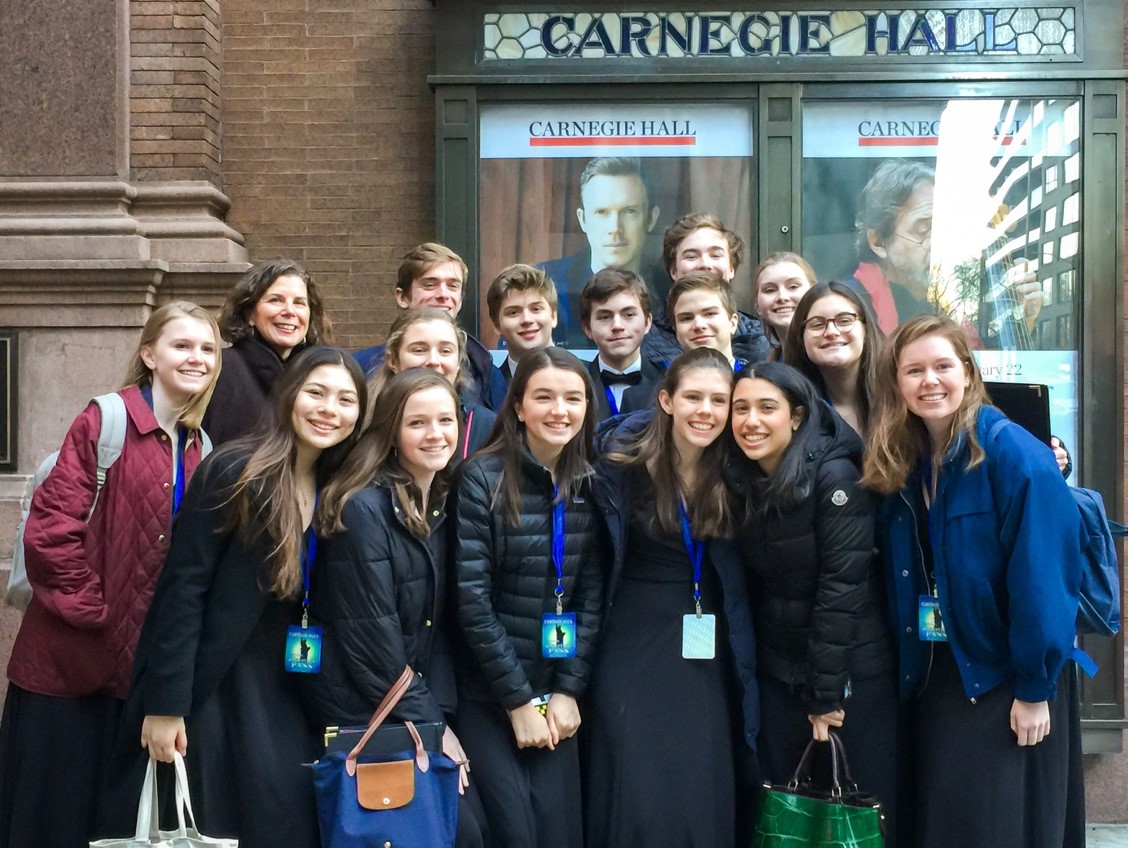 Front row (L to R): Elizabeth Burnell, Sofia Fenner, Alice O'Connell, Olivia Conniff, Eliza Brennan, Ally Bruno, and Lily Vorbach; second row: Pamela Simpson (L) and Caroline Palermo; third row (L to R): Jack Palermo, John Mignardi, Ashton Minich, Michael Weild, and Anna Maicon; at the back: George Cooney (L) and Catie Burnell. Not pictured: Maggie Lockwood. Photo by Susan Conniff
In the fall, Simpson invited high school chorus singers to join the project on an audition basis. As she would be occupied with the high school musical, singers would have to learn the music independently. Simpson provided them with recordings and a detailed schedule by which they would have to have their parts learned. Students prepared on their own and in chorus class and then rehearsed sections with accompanist Jonathan Faiman.
In the days before the scheduled performance, the group traveled twice to Manhattan to rehearse with the full chorus under Dr. Jessop at the Park Central Hotel Ballroom, across the street from Carnegie Hall. "Singing in such a large group with some very experienced singers was truly rewarding. We learned so much from each other and the conductor," remarked Bronxville junior Sofia Fenner.
"The most amazing thing happened," said Fenner. At moments during the rehearsals, the blending of voices gave rise to overtones in the ballroom. Overtones are a natural phenomenon under very specific conditions where the illusion is created that more pitches are being produced than those the musicians are physically creating. "It was like there was another chorus hovering above us. It was angelic!" 
The Festival Chorus comprised singers from a college chorus, three local high schools, and professional ensembles from Utah, Ohio, and New York. "Dr. Jessop treated all of the singers as if they were top-notch musicians," said Simpson. "Jessop had exacting standards for every singer regardless of age. They quickly learned to respond to his nuanced conducting gestures and the music came to life. It was magical seeing their amazed faces as they heard their voices become part of something bigger than themselves."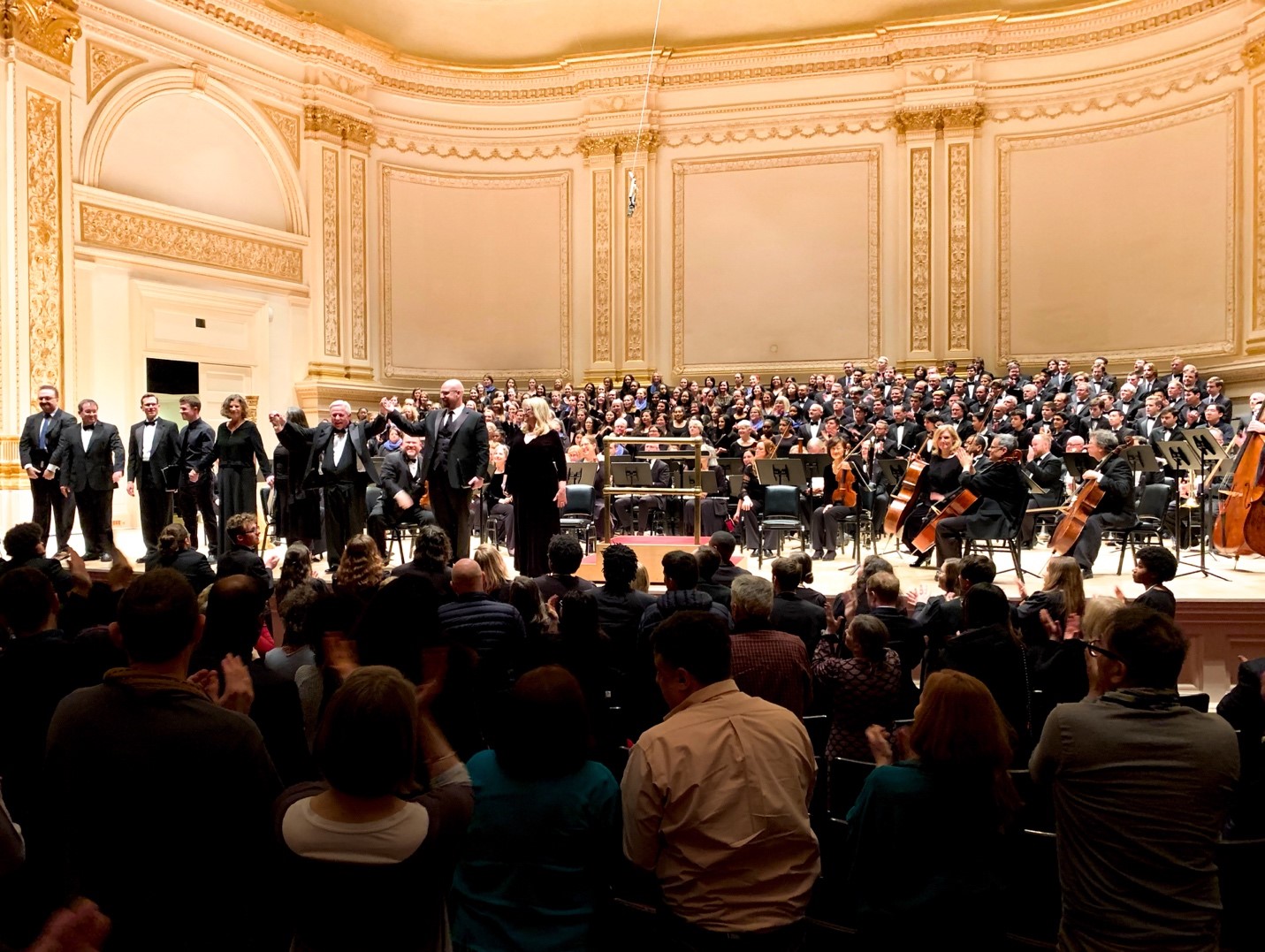 Photo by David Fenner
For Pam Simpson, this would not be the first time performing at Carnegie Hall. As a graduate student at Westminster Choir College in Princeton, NJ, pursuing her master's degree in music education/choral conducting, she performed there under the direction of Robert Shaw and later with the Philadelphia Orchestra under maestros Riccardo Muti and Wolfgang Swallisch. She has performed at Avery Fisher Hall (now David Geffen Hall) with the New York Philharmonic under Kurt Masur, but this performance was special.
"Rehearsing with Dr. Jessop felt just like the old days," said Simpson. "It was thrilling. But to sing again at Carnegie Hall WITH my students was amazing."
The Isaac Stern Auditorium with its vaulted Ronald O. Perelman Stage is a tremendous site. The evening's program began with performances by the Philadelphia Boys Choir & Chorale, which was followed by the University of Montevallo Concert Choir. When the program resumed after intermission, it took several minutes for the members of the massive Gotham Sings! Chorus to take their places on the stage as anticipation built in the audience. When the music began, the audience was spellbound, lifted and captivated for nearly an hour before it could return the gift of music with rousing applause. Soloists Cindy Dewey and Errik Hood were fantastic, but the powerful chorus stole the show.
Bronxville senior Catie Burnell summed it all up beautifully: "Singing at Carnegie Hall was an amazing experience! Working with such an experienced and diverse choir really pushed us to perform to the best of our ability. It was an honor to work with Dr. Jessop; he is a very accomplished conductor and really took the time to work with the entire choir to help us improve. We are so grateful Ms. Simpson was able to arrange this once-in-a-lifetime opportunity!"
To cap the evening, the choral leaders, including Pam Simpson, were called from their places in the chorus to join Dr. Jessop and the soloists in taking their bows. "I had not expected that," said Simpson. "It was extraordinary!"
The Bronxville participants were Catie Burnell, Elizabeth Burnell, Olivia Conniff, Alice O'Connell, Caroline Palermo, and Lily Vorbach (sopranos), Eliza Brennan, Ally Bruno, Sofia Fenner, Maggie Lockwood, Anna Maicon, and Pamela Simpson (altos), and George Cooney, John Mignardi, Ashton Minich, Jack Palermo, and Michael Weild (basses).
Pictured at top: Bronxville High School chorus members present their director, Pamela Simpson, with a signed poster commemorating their performance at Carnegie Hall. In back (L to R): Michael Weild, Sofia Fenner, Lily Vorbach, Pamela Simpson, George Cooney, Catie Burnell, and Caroline Palermo; in front: Alice O'Connell (L) and Olivia Conniff. Performers not pictured: Eliza Brennan, Ally Bruno, Elizabeth Burnell, Anna Maicon, Maggie Lockwood, Jack Palermo, John Mignardi, and Ashton Minich.  
Photo at top by Trish Burnell 

Editor's note: As a public service, MyhometownBronxville publishes articles from local institutions, officeholders, and individuals. MyhometownBronxville does not fact-check statements therein, and any opinions expressed therein do not necessarily reflect the thinking of its staff.