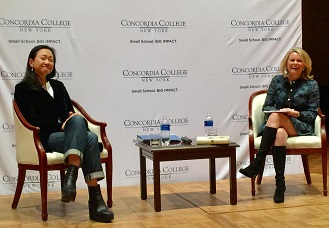 By Irena Choi Stern, Co-Vice President, Friends of the Bronxville Public Library

Feb. 13, 2019:  "There is no friend as loyal as a book." - Ernest Hemingway
Raise a Glass to Hemingway is the theme of this year's benefit for the Bronxville Public Library on Friday, March 8, at 7:00 pm, and it promises to be the party of the year. Organized by the board of the Friends of the Bronxville Public Library (FOBPL), the evening is a community-wide effort, with local merchants donating fabulous raffle items. In a nod to Hemingway, a wide assortment of author-favored beverages will be served, along with delicious fare.
"There has been awesome community support for this event," said FOBPL board member Jody Klessel. "Local business owners have enthusiastically wanted to participate. Through their generosity, we have acquired a collection of various gifts and donations to be part of the raffle baskets that will be awarded there. Everyone has been very happy to support our library. Several local business owners mentioned that they look forward to attending the event and they love the creative Hemingway theme."
Over the years, the FOBPL has quietly filled in where library budgets have not been able to meet the need, funding all of the adult and children's programming, including the summer reading program, author events featuring nationally recognized writers, a museum pass program to New York City institutions, keeping the library open during municipal cuts, funding innovations in digital publishing, and making sure that Bronxville residents have access to resources. The library has long been a central focus of the community, with residents donating to the 2001 renovation of the building, the majority of which was funded by the fortuitous auction of a painting.
"We are so lucky to have this wonderful library in our community," said Helen Knapp, a member of the host committee with her husband, Charles Cagliostro. "It's an amazing place to read, write, work, study, learn, and play. The benefit is a great opportunity to support the library and get together with friends and neighbors."
In every town, the library is a community treasure and a place for learning. As the author Barbara Kingsolver wrote in an essay, "Those of us launched from bare-bones schools in uncelebrated places will always find particular grace in a library, where the temple doors are thrown wide to all believers, regardless of pedigree."
"The library has been a special place for our family," said Zlata Gleason, a member of the host committee with her husband, Greg. "It is important to remind our community of the resources the library offers. The benefit is a great way to do so and it helps to get more members of the community involved to help keep our library and its program supported and growing for current and future generations."
Raffle sponsors include (list in formation):  Eileen Palma, Nature's Cradle, Sarah Lawrence College, Silk Road, Bronxville Wellness Sanctuary, Chantilly, Continental 109, Dobbs & Bishop, Elia Taverna, Harry's, J.McLaughlin, Louis di Chiarro Salon, Maison Rouge, Mini's Prime Meats, Nutmeg, Park Place Bagels, Newton Garden Design and Development, Playa Bowl, Posh, Pure Barre, Root and Vine, Toney Toni and the Gang, Womrath Bookshop, Yoga Haven, and Yoga Rebels.
Please continue the tradition of community support for the Bronxville Public Library. For tickets, go to https://fobpl.org/. 
Pictured here:  The Friends of the Bronxville Public Library sponsored an evening with Min Jin Lee, author of Pachinko, who was interviewed by Sissel McCarthy. Nearly 400 community members attended the event.
Photo courtesy Irena Choi Stern, Co-Vice President, Friends of the Bronxville Public Library
Editor's note: As a public service, MyhometownBronxville publishes articles from local institutions, officeholders, and individuals. MyhometownBronxville does not fact-check statements therein, and any opinions expressed therein do not necessarily reflect the thinking of its staff.