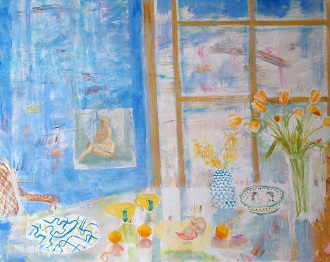 By Elizabeth Vranka, Executive Director, OSilas Gallery & Art Studio

Jan. 23, 2019:  OSilas Gallery at Concordia College is pleased to announce the opening of Petal Power: Hope Springs Eternal, a group show that starts 2019 with expressions of hope and new beginnings by showcasing artwork that reminds us spring is on its way!  
Petal Power, which is curated by Bartholomew Bland and Patricia O'Shaughnessy, opens on Thursday, January 31, and will be on view through March 16. An opening reception featuring a brief gallery talk by the curators will be held in OSilas Gallery on January 31 at 7:00 pm, and many of the artists and gallerists participating in Petal Power will be present. The opening reception and exhibition are free and open to the public.
This exhibition is an opportunity to present Earth's most basic drama: out of the dormant, dark winter, spring emerges and lifts our spirits. Petal Power features over 45 paintings, photographs, and sculptures that celebrate the beauty and hope of nature's cycle. Featured artists include David Kimball Anderson, Jackie Battenfield, Stanley Bielen, Jasmina Danowski, Nancy Daubenspeck, Katie DeGroot, Jeri Eisenberg, Adam Handler, Barbara Hirsch, Catherine Howe, Mary Judge, KK Kozik, David Licata, Jane McNichol, Isabelle Menin, Jill Parisi, Melanie Parke, Marilla Palmer, Walter Rane, Beth Rundquist, and Ilene Sunshine. Nearly all the works will be available for acquisition (prices available upon request) with a portion of the proceeds to benefit OSilas Gallery. 
Co-curator Patti O'Shaughnessy, principal of Patricia O'Shaughnessy Design in Bronxville, said of the galleries lending artwork to the exhibition, "We wanted this exhibition to feature excellent, accessible galleries we consider 'friends of OSilas.' The artists selected from these five galleries and the several independent artists who are also friends and colleagues use nature as their primary subject matter, bringing fresh perspective to each work and each series."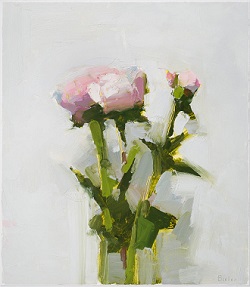 The lending galleries are The Cooley Gallery (Old Lyme, CT), Kathryn Markel Fine Arts (New York City and Bridgehampton, NY), Kenise Barnes Fine Art (Larchmont, NY), Madelyn Jordon Fine Art (Scarsdale, NY) and Muriel Guépin Gallery (New York City). 
As a special addition to Petal Power on opening night, several floral arrangements created by area florists will be placed around the gallery. Each floral arrangement will be inspired by a specific work in the exhibition. Donating florists include Green Wood Flowers, Mrs. Morgan's Flower Shop, Tryforos & Pernice Florists, and Delphinium Designs.
Co-curator Bartholomew Bland, director of the Lehman College Art Gallery at the City University of New York, remarked, "I always remember that great deadpan quote from Miranda Priestly in The Devil Wears Prada:  'Florals for spring. Groundbreaking.' But I realize that the optimism that comes with the first suggestion of spring is both a cliché and a real eternal truth. When Patti and I were putting together the exhibition during the short, dark, cold days of winter, we were reminded daily of just how much we need the promise of new life. I've worked on many exhibitions, but never one where the work of the artists was so uniformly and blessedly joy-filled. It was a treat, and I hope visitors respond to the dazzling bouquet of color on the gallery's walls."
Petal Power: Hope Springs Eternal opens at 7:00 pm on Thursday, January 31, and will be on show through March 16 at OSilas Gallery, located on the campus of Concordia College, 171 White Plains Road, Bronxville, in the Donald A. Krenz Academic Center on the second level of Scheele Memorial Library. The exhibition is free and open to the public. Free and ample parking is available on campus and is accessible via entry on Concordia Place off of White Plains Road.
Gallery hours are Tuesday, Wednesday, and Friday, noon to 5:00 pm, Thursday, noon to 7:00 pm and Saturday, 2:00 to 5:00 pm. Please see www.osilasgallery.org for more information about exhibitions, special events, and programs.
Photos courtesy OSilas Gallery

Editor's note: As a public service, MyhometownBronxville publishes articles from local institutions, officeholders, and individuals. MyhometownBronxville does not fact-check statements therein, and any opinions expressed therein do not necessarily reflect the thinking of its staff.