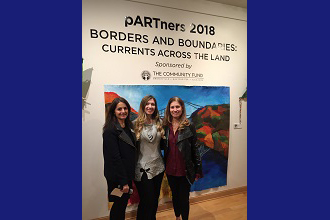 By Elizabeth Vranka, Executive Director, OSilas Gallery at Concordia College

Dec. 5, 2018:  The sixth annual pARTners Exhibition, an art installation created by local high school students in collaboration with Concordia College students, opened at OSilas Gallery last Thursday and will be on view through December 15. The opening reception on November 29 was enjoyed by a lively crowd of approximately one hundred guests.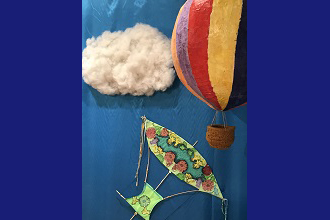 Given the theme of "Borders and Boundaries" for this year's pARTners exhibition, students with special needs and their peers and art teachers created individual works of art that explore pathways that know no borders or boundaries but, instead, are guided only by forces of nature. The artwork comes together in an installation titled Borders and Boundaries: Currents Across the Land. For this exhibition, students from Tuckahoe High School created colorful hot air balloons with woven baskets that float suspended in air in the gallery.
Of the annual pARTners exhibition, Tuckahoe art teacher Danielle Cacace stated, "pARTners plays an important role in our creative arts and sculpture class. Every year, our students look forward to working on the new theme and participating in the installation process." Ms. Cacace added, "We are incredibly fortunate at Tuckahoe to have the strong community we share amongst students, faculty, staff, administration, and parents that makes the opening reception an exciting night filled with pride for our students. It is a magical moment seeing all of their hard work and collaboration come together in OSilas Gallery. The students and I are truly grateful for the experience year after year."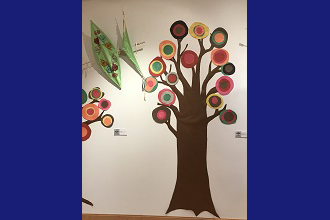 The students from Eastchester High School created delicate kites decorated with images of flora and fauna indigenous to New York State that are modeled on kites created in the central region of Malaysia for Currents Across the Land. The kites, like hot air balloons, float through the air and know nothing of borders and boundaries. "Having the opportunity to exhibit and share student artwork in a setting like OSilas Gallery brings a real-world experience to the classroom," according to Eastchester High School art teacher Patrick Perry. "We are truly appreciative for this unique and mutually beneficial opportunity."
In addition to the hot air balloons and kites created for Currents Across the Land, the students with special needs also visited OSilas Gallery and worked together with Concordia College education students on art projects designed by the college students. Together, the high school students and college students created special works of art that were then integrated into the art installation. Ms. Cacace said that working with the Concordia students on the special projects made her students' gallery visit "extra meaningful" and stressed the "importance of collaboration."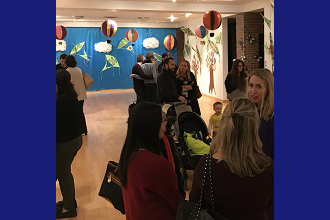 Currents Across the Land is sponsored by The Community Fund. "The Community Fund is so pleased to have been able to support this wonderful event," said Amy Korb, the executive director of The Community Fund. "OSilas Gallery has created a beautiful inclusive program with Tuckahoe and Eastchester High School Students. We hope that this is the first of many partnerships."
Borders and Boundaries: Currents Across the Land will be on view through December 15 at OSilas Gallery, Concordia College, 171 White Plains Road, Bronxville  Gallery hours are Tuesday/Wednesday/Friday Noon-5:00 pm, Thursday Noon-7:00 pm, and Saturday 2:00-5:00 pm. The gallery is open to the public and admission is free. For more information about OSilas Gallery and its events and exhibitions, please visit osilasgallery.org.
Pictured at top: Elizabeth Vranka, executive director of OSilas Gallery, Danielle Cacace, Tuckahoe art teacher, and Amy Korb, executive director of The Community Fund.
Photos courtesy Elizabeth Vranka, Executive Director, OSilas Gallery at Concordia College


Editor's note: As a public service, MyhometownBronxville publishes articles from local institutions, officeholders, and individuals. MyhometownBronxville does not fact-check statements therein, and any opinions expressed therein do not necessarily reflect the thinking of its staff