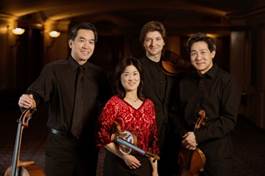 By Ellen C. de Saint Phalle, Director of Community Relations, Sarah Lawrence College

Dec. 5, 2018:  Sarah Lawrence College is delighted to present the Ying Quartet for a special concert on Wednesday, December 5, at 7:30 pm at The Performing Arts Center Reisinger Auditorium. 
The Ying Quartet is the first visiting ensemble of the Jean Wentworth Music Residency, established by the Wentworth family in memory of revered concert pianist and music faculty member emerita Jean Wentworth. Now in its third decade, the Ying Quartet is renowned and revered in the classical music world, and its performances often take place in many of the world's most important concert halls. The quartet's members are Robin Scott and Janet Ying, violins; Philip Ying, viola; and David Ying, cello. 
Through the Jean Wentworth Music Residency, these world-class musicians have been working with Sarah Lawrence students in program areas of music and beyond, offering cross-disciplinary engagement and audience building. Their residency included a Music Tuesday performance with faculty music scholar Martin Goldray and will culminate with this final public concert on December 5.
The concert is free and open to the public. For more event updates and details, click here.
Photo courtesy MKI artists 

Editor's note: As a public service, MyhometownBronxville publishes articles from local institutions, officeholders, and individuals. MyhometownBronxville does not fact-check statements therein, and any opinions expressed therein do not necessarily reflect the thinking of its staff