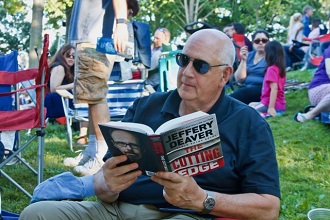 By Sarah Thornton Clifford, Publisher

Jul. 18, 2018: Whether you're at the beach, the lake, or the mountains or you are traveling or relaxing at home, summer can provide just enough downtime to pick up a good book. 
Below are over 40 books that my friends and family are enjoying this summer. The books are in alphabetical order and quotations are from those who submitted the titles.    
The Alice Network, by Kate Quinn.  
Bad Blood, by John Carreyrou. "About the Theranos scandal. Couldn't put it down." 
The Banker's Wife, by Christina Ager. "Wealth, society, Swiss banks, financial titans. Has all the intrigue for a good mystery." 
Beartown, by Fredrik Backman.  
Behemoth: A History of the Factory and the Making of the Modern World, by Joshua Freeman. "Fascinating history of big factories." 

Bobby Kennedy, by Chris Matthews. "Great read of Bobby's life … focuses on campaigns with JFK through his own presidential bid. Well-done tribute to his years of public service."  

Breakfast with Buddha; Lunch with Buddha; Dinner with Buddha, a trilogy by Roland Merullo. 
The Confidence Code For Girls: Taking Risks, Messing Up, and Becoming Your Amazingly Imperfect, Totally Powerful Self, by Katty Kay and Clair Shipman. "Has some good insights and is written in a very user-friendly, positive tone. I like both authors as journalists and found their insights into the need for confidence and perspective for our young girls (and boys) valuable."  

Crazy Rich Asians, by Kevin Kwan. "Beach read page-turner!" 
The Cutting Edge, by Jeffery Deaver.  

Destiny of the Republic: A Tale of Madness, Medicine and the Murder of a President, by Candice Millard. 
Educated: A Memoir, by Tara Westover. 
The First Frontier: The Forgotten History of Struggle, Savagery, and Endurance in Early America, by Scott Weidensaul.  
A Gentleman in Moscow, by Amor Towles. This book was recommended by five different people.  
The Great Alone, by Kristin Hannah. 

The Guernsey Literary and Potato Peel Pie Society, by Mary Ann Shaffer and Annie Barrows.  

The Heart's Invisible Furies, by John Boyne. 
The High Season, by Judy Blundell. 
Hourglass: Time, Memory, Marriage, by Dani Shapiro. 
The Immortalists, by Chloe Benjamin.  
Leonardo da Vinci, by Walter Isaacson.  

Manhattan Beach, by Jennifer Egan. "Historical novel which takes place during WWll and is set at the Brooklyn Navy Yard. … Good historical context with a well-done family saga and NY mystery." 
The Masterpiece, by Fiona Davis.  

My Dear Hamilton: A Novel of Eliza Schuyler Hamilton, by Stephanie Dray and Laura Kamoie.   

Pachinko, by Min Jin Lee.
The Piano Teacher, by Janice Y. K. Lee.
The Power of One, by Bryce Courtenay. 

Prairie Fires: The American Dreams of Laura Ingalls Wilder, by Caroline Fraser. "It's about Laura Ingalls Wilder and the early 1880s settlement of the Nebraska and Northwest territory. It was ranked by the NY Times as one of the 10 best books of the year in 2017."  

Providence, by Caroline Kepnes.

Red Notice: A True Story of High Finance, Murder, and One Man's Fight for Justice, by Bill Browder.  

The Red Sparrow Trilogy, series by Jason Matthews. 
The River of Doubt: Theodore Roosevelt's Darkest Journey, by Candice Millard.  

The Rules of Magic, by Alice Hoffman.  
Saints for all Occasions, by J. Courtney Sullivan. "Novel based on two sisters and their story of immigration from Ireland and the different lives they choose. … Similar to the popular Brooklyn." 
The Square and the Tower: Networks and Power, from the Freemasons to Facebook, by Niall Ferguson. 
Strength in Stillness, by Bob Roth.

Temporary People, by Deepak Unnikrishnan. "This is a bit dated--March 2017--and its magical realism is odd, but I loved it. Really well-written short stories about migrant workers in the Persian Gulf." 
A Theory of Love, by Margaret Bradham Thornton. "Love story between a financier and a journalist set in London, St. Tropez, Tangier, and other beautiful places. Couldn't put it down." 
The Ticket, by Fred Shackelford. "Channing Booker is down on his luck and wins the Mega Millions lottery but there are some unexpected twists. I have given this to all my friends." 

When Life Gives You Lululemons, by Lauren Weisberger. "Fun summer read by author of The Devil Wears Prada. ... As you can imagine, it's a page-turner set in LA-NY-Greenwich. Society and glamor with Hollywood and politics mixed all equal a good summer read! I have started it and it is hard to put down when work gets in the way!" 

Who We Are and How We Got Here: Ancient DNA and the New Science of the Human Past, by David Reich. 

Photo by N. Bower 
Editor's note:  This list includes a book by a relative of the author.