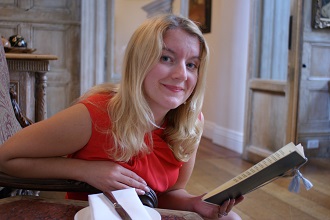 By Rebecca Portnoy, Communications Associate, Concordia College

Jul. 4, 2018: Below are literary events at Concordia College in the fall that will inspire your summer reading.
Monday, September 17, Author John Leland: Concordia College and the Bronxville Adult School will host John Leland, New York Times writer and author of Happiness is a Choice You Make. A year of engaging with six people aged 85+ completely changed Leland's understanding of old age, inspiring this wise and insightful book. 
Thursday, September 27, Poe Reads Poe: Join the premiere of Living Legends, a new series from Concordia College and the Eastchester Historical Society. In the inaugural event, Poe Reads Poe, historical interpreter Charles Wissinger will appear in character as Edgar Allan Poe reading from his work. Accompanying period music performed by Concordia Conservatory faculty will help make for an unforgettable evening.   
Monday, October 15, Author Kate Moore. Kate Moore, New York Times and USA Today bestselling author of The Radium Girls, will be our guest for Books & Coffee. Coveted WWI factory jobs painting watch faces with a mysterious new substance called radium end in tragedy for several young women. The book tells the story of one of America's biggest scandals and a groundbreaking battle for workers' rights.
Pictured here: Author Kate Moore, who will discuss her book The Radium Girls in Concordia College's Books & Coffee series in October.
Photo by Duncan Moore   
Editor's note: As a public service, MyhometownBronxville publishes articles from local institutions, officeholders, and individuals. MyhometownBronxville does not fact-check statements therein, and any opinions expressed therein do not necessarily reflect the thinking of its staff.