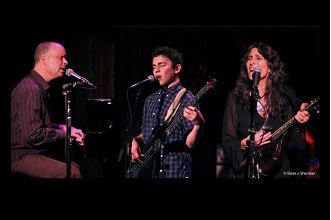 By Margaret Mager, President, and Irena Choi Stern, Publicity Chair, Friends of the Bronxville Public Library

Apr. 4, 2018:  Those who love poetry, especially the poems of Edna St. Vincent Millay, can enjoy a special musical concert on Sunday, April 15, at the Bronxville Public Library. The Friends of the Bronxville Public Library is sponsoring The Edna Project's "Renascence," a performance in which the poem that launched St. Vincent Millay's career in 1912 is set to music by Liz Queler. This epic work is operatic in dramatic scope while staying true to the folk/rock roots of The Edna Project's debut CD.
"I decided to set the epic poem 'Renascence' when we were invited to perform at the 100th anniversary of Millay's recitation of that poem at White Hall in Camden, ME," Queler said. "It was an utterly daunting task setting this poem, which takes 20 minutes to sing. How thrilling, when we presented it to the crowd in Camden, to look up and see people mouthing the words along with me!"
The Edna Project consists of Queler, her husband, Seth Farber (piano/accordian/vocals), who composed or co-wrote many of the songs, and their son, Joey (bass/percussion/vocals).
"The Edna Project concerts are extraordinary," said Holly Peppe, Edna St. Vincent Millay's literary executor. "The musicians--Liz Queler, Seth Farber, and Joey Farber--create an unforgettable pairing of exquisite poetry and music, melding folk, bluegrass, rock, and jazz with humor and great harmonies. I have no doubt that Millay herself would approve of this modern yet timeless presentation of her work."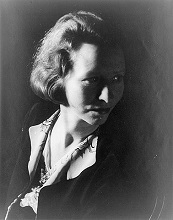 "It was specifically the poetry of Millay that spoke to me," Queler said. "I hadn't been a poetry reader, but I was given a collection of her poems for my birthday one year. I grabbed the book off the shelf one day hoping to break a spell of writer's block I'd been grappling with, brought on by my father's struggle with Alzheimer's disease. It worked. Opening the book, I heard melodies right away. The words seemed to sing to me. I can't explain it."
Margaret Mager, president of the Friends of the Bronxville Public Library, is delighted that the volunteer organization can present something new to the Bronxville Library community.
"This is the first time The Edna Project has performed in Bronxville," Mager said. "It is through the generous donations by Friends of the Bronxville Public Library that this and so many other high-quality programs that distinguish our library are possible. Our 2018 annual fundraising campaign will be under way in May 2018, and we hope the community will once again support FOBPL."
The event is free and open to the public ($5 suggested donation at the door). For more information, click here. To support the Friends of the Bronxville Public Library, click here.
About the performers. Partners in marriage and music, Liz Queler and Seth Farber are both three-time Grammy nominees. As children of musical parents and parents of a musical child, they started bringing their son, Joey, on stage with them when he was a tot. Now 18 years old and a freshman at Berklee College of Music, he has stepped in as an equal. With individual credits including appearances at Newport Folk Festival and Carnegie Hall (Liz), Saturday Night Live (Joey), and the conducting podium of numerous Broadway shows (Seth), their family band presents a truly unique sound and soul. Heavy on harmonies with influences from Appalachia, bluegrass, and gospel vocal blending, their music is infused with a rock sensibility, creating a soulful cross between Crosby, Stills, Nash & Young, Emmylou Harris, and John Mayer.
Pictured here: Top: The Edna Project; in text: Edna St. Vincent Millay.
Top photo courtesy Margaret Mager, President, and Irena Choi Stern, Publicity Chair, Friends of the Bronxville Public Library
Photo in text by Carl Van Vechten - Van Vechten Collection at Library of Congress, Public Domain, https://commons.wikimedia.org/w/index.php?curid=1382263


Editor's note:  As a public service, MyhometownBronxville publishes press releases, statements, and articles from local institutions, legislators, and candidates. MyhometownBronxville does not fact-check statements therein, and any opinions expressed therein do not necessarily reflect the thinking of its staff.