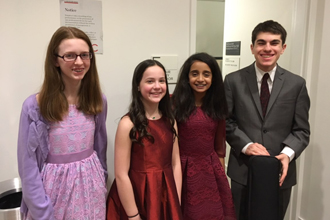 By Kathleen Suss, Executive Director, Concordia Conservatory

Mar. 28, 2018:  Four students from Concordia Conservatory performed at Carnegie Hall's Weill Recital Hall on Sunday, February 18, in the Tri-State Certificate of Excellence Winners Concert of the Royal Conservatory Program. 
The performers and recipients of the certificate of excellence awards are guitarist Nicholas Lombardi (Regis High School), sopranos Francesca Ricciarini and Maya Madhavan (The Bronxville School), and flutist Bridget Goodman (The Ursuline School).
For 130 years, The Royal Conservatory of Music ("RCM") has offered an internationally renowned program of music study and assessment through its certificate program. The RCM Certificate Program is a comprehensive and effectively sequenced program of music study and assessment, beginning with the preparatory level(s), followed by levels 1 to 10.
The program provides students with world-class, well-rounded musical training from elementary to advanced levels. At each level, a certificate of achievement can be earned by successfully completing a Royal Conservatory practical examination. Exams are offered on a periodic one-on-one, adjudicator-to-student performance evaluation. Exams are offered in keyboard, string, woodwind, and brass instruments; voice; and music theory, history, and pedagogy.
The Concordia Conservatory student winners received the top scores in their category and level in the New York, New Jersey, and Connecticut area.
Pictured here (L to R): Bridget Goodman, Francesca Ricciarini, Maya Madhaven, and Nicholas Lombardi.
Photo courtesy Kathleen Suss, Executive Director, Concordia Conservatory
Editor's note:  As a public service, MyhometownBronxville publishes press releases, statements, and articles from local institutions, legislators, and candidates. MyhometownBronxville does not fact-check statements therein, and any opinions expressed therein do not necessarily reflect the thinking of its staff.