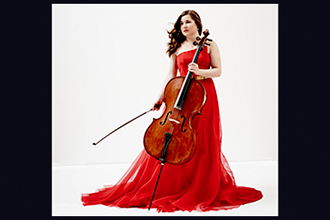 By Sándor Szabó, Minister of Music and Organist, The Reformed Church of Bronxville

Mar. 8, 2017:  The Reformed Church of Bronxville will host the world-renowned Orpheus Chamber Orchestra with internationally acclaimed cellist Alisa Weilerstein on Friday, March 17, in the church's sanctuary.
The performance is free to all. General admission seating will be on a first-come, first-served basis. Doors open at 6:30.
The concert is dedicated to the memory of Emily McKnight Corry, a passionate lover of classical music, who was a member of The Reformed Church for 51 years until her death on May 21, 2016, and taught eighth grade church school.
We are grateful for the legacy of Emily, as well as her husband, John A. Corry (also a longtime church member, who died on December 26, 2016), both of whom were great supporters of the arts.
"We are delighted to host the Orpheus Chamber Orchestra," said Dr. Sándor Szabó, minister of music at The Reformed Church. "It is one of the premier chamber ensembles in the world, and its mission of providing the highest caliber of music to the public fits with our own dedication to serving the community with almost a dozen concerts each year—all free to the community."
A standard-bearer of innovation and artistic excellence, the Orpheus Chamber Orchestra is one of the world's foremost chamber orchestras. It was founded in 1972 by a group of like-minded young musicians determined to combine the intimacy and warmth of a chamber ensemble with the richness of an orchestra.
With 71 albums, including the Grammy Award-winning Shadow Dances: Stravinsky Miniatures, and 43 commissioned and premiered original works, Orpheus rotates musical leadership roles and strives to perform diverse repertoire through collaboration and open dialogue.
Performing without a conductor, Orpheus presents an annual series at Carnegie Hall and tours extensively to major national and international venues.
The concert will feature Felix Mendelssohn's Nocturno for Winds; Franz Schubert's Symphony No. 5; Anton Webern's Five Movements for Strings; and Robert Schumann's exuberant Cello Concerto, performed with the extraordinary American cellist Alisa Weilerstein.
Weilerstein, who recently recorded her fifth album on Decca Classics, made her major orchestral debut in 1995 at age 13 with the Cleveland Orchestra and a year later made her Carnegie Hall debut with the New York Youth Symphony. Since then, she has appeared with every major orchestra in the United States and Europe and has appeared at festivals ranging from Aspen and Edinburgh to Salzburg and Tanglewood. In 2011, she was awarded a MacArthur "genius" grant.
No reservations will be accepted, so patrons should arrive early; the sanctuary holds approximately 600.
For more information, visit www.reformed church.org or call The Reformed Church office at 914-337-6776. 
Pictured here:  Acclaimed cellist Alisa Weilerstein.

Photo courtesy Sándor Szabó, Minister of Music and Organist, The Reformed Church of Bronxville