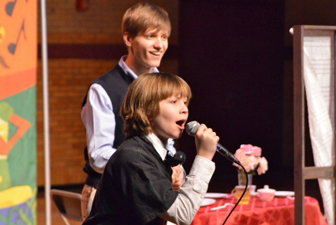 By Kathleen Suss, Executive Director, Concordia Conservatory

Mar. 1, 2017:  Concordia Conservatory will present the musical Animal Estates as part of the Musical Adventures Family Series on Saturday, March 4, at 11:00 am in the Schoenfeld Campus Center at Concordia College.
With book, music, and lyrics by Matt Van Brink, the musical features a purple martin returning to New York after his yearly migration who then enlists the help of a rabbit realtor at Animal Estates Realty to find the perfect home. But the rabbit shows him the habitats of other animals, ones that are already occupied! It's fine to meet the neighbors, but this bird's got to make a nest! The story is based on Fritz Haeg's Animal Estates.
Matt Van Brink is a distinguished composer, educator, lyricist, and pianist. He heads the songwriting and composition department at Concordia Conservatory and has created numerous new works for its student performers, including an evening-length chamber music song cycle, Kiss the Stars Goodnight, chamber music pieces, and a dozen one-act musicals for the classroom as well as the holiday season.
The cast features Lydia Burkee, Anthony Evangelista, Joshua Gleason, Maya Madhavan, Robert McGinness, Jeffrey Rohr, Zac Shearon, and Grace Smyth. Jon Klibonoff is music director and Audry Ginsburg is stage director and choreographer for the production. 
Cast members attend area schools including The Chapel School, Eastchester Middle and High Schools, Bronxville Middle and High Schools, and The Ursuline School.
Prior to the concert, there will be a breakfast for all concertgoers. Camp Concordia 2017 registration and information will be available. Camp director Mike McCoy will provide information on this summer's season. All ages are welcome at this family-friendly event.
Tickets are $15 for adults and $7.50 for children and seniors. To purchase tickets, please call 914-395-4507 or go to www.concordiaconservatory.org.

Pictured here:  Students in a previous musical.
Photo courtesy Kathleen Suss, Executive Director, Concordia Conservatory