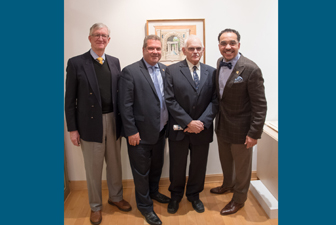 By Elizabeth Vranka, Executive Director, OSilas Gallery

Feb. 15, 2017:  On Thursday, February 9, an exhibition of works by Richard Haas titled Dreams & Reality: Visions of Urban Architecture opened at OSilas Gallery at Concordia College. 
The opening reception was a grand celebration of Richard Haas and his work. The large crowd included Mayor Mike Spano of Yonkers and Mayor Mary Marvin of Bronxville.
Haas is one of today's pre-eminent muralists whose works can be found across the United States. Residents in southern Westchester perhaps know him best for his landmark trompe l'oeil murals, Gateway to the Waterfront, in downtown Yonkers. While Haas works in lower Manhattan, he is a longtime resident of Yonkers.
Haas's artwork focuses on architecture, and the works included in Dreams & Reality are almost exclusively New York scenes or buildings. In addition to the many paintings, prints, and drawings on display, visitors will be captivated by the trompe l'oeil dioramas that Haas created of New York City streetscapes.
Charles T. Little, a Bronxville resident and curator emeritus of medieval arts and The Cloisters at The Metropolitan Museum of Art, is the curator of Dreams & Reality.
The exhibition includes a number of works related to the Gateway to the Waterfront murals, showing the evolution and development of the project, and most of these works are on loan from the Hudson River Museum in Yonkers. The rest of the works featured in Dreams & Reality are from the artist's private collection.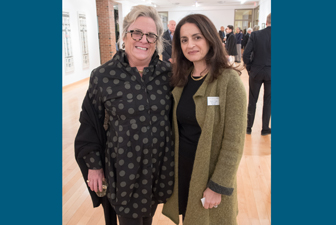 Dreams & Reality will be on show through March 4 at the OSilas Gallery, which is in the Donald A. Krenz Academic Center on the second level of Scheele Memorial Library on the campus of Concordia College. Free and ample parking is available on campus.
Gallery hours are Tues./Wed./Fri., noon-5:00 pm; Thurs., noon-7:00 pm; and Sat./Sun., 2:00 pm to 5:00 pm.

Please call Executive Director Elizabeth Vranka at 914-337-9300, ext. 2173, or email her at CLOAKING for more information or to make arrangements to have your group view Dreams & Reality outside regular gallery hours.
Please see www.osilasgallery.org for more information about exhibitions, special events, and programs. All exhibitions at OSilas Gallery are free and open to the public.
Pictured here:  Top photo (L to R): Curator Charles Little, Mayor Mike Spano, artist Richard Haas, and Concordia president John Nunes; photo in text: Mayor Mary Marvin (L) and OSilas Gallery executive director Elizabeth Vranka. 
Photos courtesy Elizabeth Vranka, Executive Director, OSilas Gallery