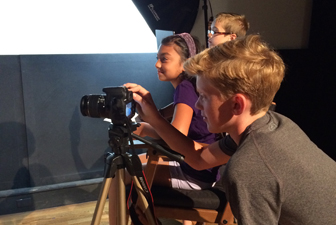 By Amy Cole, Director of Communications, The Picture House Regional Film Center 

Jan. 25, 2017:  Whether your child likes to belt it out in front of a camera or prefers to shine behind the scenes, creative opportunities await at The Picture House (TPH) Regional Film Center's Mud Week camps taking place Monday, February 20, through Thursday, February 23.
Using the hit movie Sing as their inspiration, students will create a new music-themed video for each day of camp. After camp week has concluded, TPH's panel of experts will choose a winning video from each age group, which will play on the main screen before the run of Lego: Batman at The Picture House this spring.
Winners will be announced at our student showcase on March 25, where all student films from fall and winter semesters will have their moment to shine on the big screen. Parents will also receive a link to each video to share and download at their convenience.
Mud Week camp at TPH is open to students in grades K through 5. Camp will run from 9:00 am to noon with an extended day option available. With the extended day option, students may bring their lunch, have some popcorn on us, and enjoy watching Sing in our main hall or another fantastic children's movie in our screening room.
Lunch and movie are fully supervised, extended day hours are from 9:00 am to 2:30 pm. Mud Week camp is $65/student per day, extended day is $90/student per day. Picture House members at the Family Level and above receive a 10% discount.
All classes meet at our theater at 175 Wolfs Lane. Registration is available at http://www.thepicturehouse.org/education/camps-tph/ or by emailing  CLOAKING  or calling 914-738-3161.
About The Picture House Regional Film Center:  Since 1921, The Picture House Regional Film Center (TPH) has served as a cultural center and community hub and is the oldest continuously running movie theater in Westchester County. Thanks to an extensive renovation and the addition of state of the art technology, TPH is also a thriving regional film center providing dynamic film and education programs to a diverse and multi-generational audience in Westchester County and beyond. In the 300-seat main hall and the luxurious 14-seat screening room, audiences see the best in new, independent, and classic cinema. TPH education programs provide students of all ages with the opportunity to learn about the art, science, and business of film. A community-based, mission-driven nonprofit 501(c)(3) organization, The Picture House is located at 175 Wolfs Lane, Pelham, New York 10803. Contact it at www.thepicturehouse.org,  CLOAKING  or 914-738-3161.
Photo courtesy Amy Cole, Director of Communications, The Picture House Regional Film Center