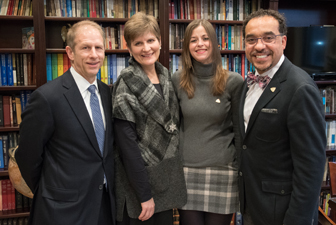 By Kathleen Suss, Executive Director, Concordia Conservatory

Jan. 25, 2017:   Concordia Conservatory is pleased to announce it has established two endowment funds in memory of Mary C. Hoch: the Mary C. Hoch Endowed Scholarship Fund and the Hoch Chamber Music Endowed Fund. 
These funds will, respectively, assist need-based music students of all ages and ensure world-class chamber music at Concordia College. The endowment funds were donated by over 200 families and friends to Concordia College in Mary's memory.
Mary passed away from traumatic brain injury in August of 2016. Her influence on Concordia and the greater Bronxville community was extensive and profound. 
Mary and her husband, Jim, founded the Hoch Chamber Music Series in 2001, a premiere music series that has become one of the true treasures of the community and Concordia College. 
Mary's passion for providing high-level musical experiences for children and adults and cultivating the next generation of chamber music lovers is realized through these endowments. Mary's love for and dedication to music education will continue to enrich the lives of Concordia Conservatory students and audiences for generations to come.
Said Executive Director Kathleen Suss, "These two endowment funds empower the core of the Conservatory's mission to inspire, instruct, and enrich lives through music offering excellence in education and performance. Mary's profound impact will influence countless students and concert goers for many years to come. On a personal and professional level, I am so grateful for all that Mary has done on behalf of Concordia Conservatory and the community. As her devoted partner in these endeavors, Jim Hoch continues his dedication to outstanding music education and world-class performances at Concordia."
Pictured here (L to R): At the endowment signing are Jim Hoch, Kathleen Suss, executive director of Concordia Conservatory, Heather McGuiness, vice president for advancement, and Concordia College's President Dr. John Nunes.

Photo courtesy Kathleen Suss, Executive Director, Concordia Conservatory