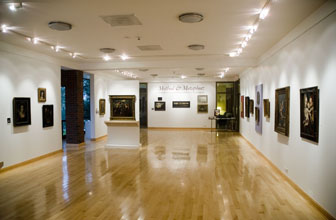 By Elizabeth Vranka, Executive Director, OSilas Gallery, Concordia College 

Jan. 4, 2017:  OSilas Gallery announces the opening reception of its 11th annual StArt regional high school student art exhibition and awards presentation on Friday, January 6, at 6:00 pm in the gallery, which is on the campus of Concordia College in the Donald A. Krenz Academic Center on the second level of Scheele Memorial Library. 
Last year, OSilas Gallery had submissions from 90 student artists from 30 regional public and private high schools across Westchester, Fairfield, Rockland, and Orange Counties, as well as the Bronx. 

Bronxville, Tuckahoe, and Eastchester high schools will be among the approximately 30 schools participating in this year's StArt Exhibition.  

The StArt Exhibition gives high school art students an opportunity to showcase their work in a professional gallery and build their credentials and portfolios for college. Regional high schools are invited to submit up to three pieces of student artwork selected by its art faculty. The art can be any medium. StArt 2016 featured works ranging from photography to ceramics to paintings.
OSilas Gallery is also pleased to announce that this year StArt is sponsored by The Heart of Neiman Marcus Foundation, which supports organizations that bring enriching arts experiences to youth . . . because ART changes lives.
The student artwork will be on display through January 17.
All exhibitions at OSilas Gallery are free and open to the public. For gallery hours, please visit www.osilasgallery.org or call Executive Director Elizabeth Vranka at 914-337-9300, ext. 2173, for more information.

Pictured here:  OSilas Gallery.

Photo courtesy OSilas Gallery