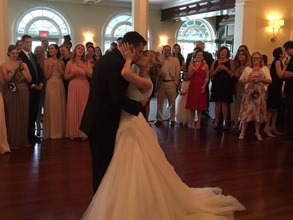 By the Family

Jun. 15, 2016:  Peter White, BHS class of 2006, married Lauren-Rose King of Manhattan on May 28, 2016.
Peter is a 2010 graduate of Boston College and the son of Mary Claire and Hugh White, longtime residents of Bronxville Village. He is currently studying medicine at the Lake Erie College of Osteopathic Medicine outside Pittsburgh, following a research internship at the Hospital for Special Surgery.
Lauren-Rose is a 2008 graduate of the New England Conservatory in Boston and holds a master's of music degree in opera performance from the University of Maryland. She is a freelance opera singer and a classical music instructor and is a member of the Marble Collegiate choir in Manhattan. Her parents reside in Woodstock, Connecticut.
The ceremony was held at Saint Joseph's Church in Bronxville and was officiated by Fr. Dawson Ambosta, followed by a reception at Siwanoy Country Club.
Peter's best man was James Dawson, a classmate and 2006 graduate of BHS. Groomsmen included Peter's brother, Gregory White (BHS class of 2010), Mark "Tad" Fabiaschi (BHS class of 2006), Daniel Steele, and Christopher Casey.
Lauren-Rose's maid-of-honor was Lauren Luciano. Other attendants included Catherine Hayden and Katherine MacAllister, both graduates of BHS class of 2006, as well as Emily Hardman, Lisa Gregory, Jazmin Grollemund, and Amelia Jenison.
Peter and Lauren-Rose met at a graduation party at Peter's home in Bronxville hosted by his parents in 2010. They enjoyed a honeymoon in St. Lucia and will reside in Pittsburgh in the near term while Peter continues his studies.

Pictured here:  Newlyweds Lauren-Rose and Peter at their reception at the Siwanoy Country Club.

Photo courtesy the family