| | |
| --- | --- |
| Jill Northrop and Paul Muir Married in Highland Wedding Here in Bronxville | |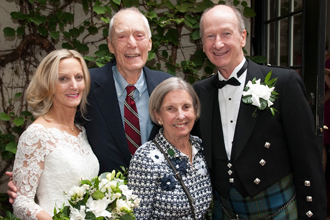 By the Family

Oct. 25, 2017:  Longtime Bronxville resident Paul Muir (far right) and Jill Northrop were married in Bronxville on October 14, 2017, on a beautiful early fall day.
The wedding took place in the Tuscan courtyard setting of Scalini Osteria in Bronxville. 

It was officiated by the Rev. Cari Pattison of The Reformed Church of Bronxville.
The flowers were by Mrs. Morgan's and the photographs were by Lisa Sorensen Photography.

Pictured here:  The newly married Jill and Paul Muir.

Photo by Lisa Sorensen