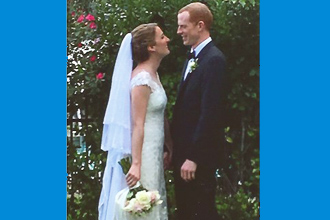 By the Family

Aug. 24, 2016:  Anne Craig Shoemaker, a daughter of Susanne L. Shoemaker and Paul T. Shoemaker of New Rochelle, was married on August 13 to Robert Paul Kirkham, a son of Ann L. Kirkham and D. Collier Kirkham of Larchmont.
The Rev. Cari Pattison, a Presbyterian minister, performed the ceremony at The Reformed Church of Bronxville.
The couple met at Harvard, from which they graduated cum laude, and at which the groom is currently studying for an MBA.
The bride, 28, taught sixth-grade literacy for the past year at the Dorchester campus of Roxbury Preparatory Charter School in Boston. In September, she is to begin work in New York as a manager at TechnoServe, a nonprofit that helps people in developing countries build farms and businesses.
Her father is a partner in Greenfield Stein & Senior, a New York law firm. Her mother is the chief executive of Undercare, a company she founded in New Rochelle that produces undergarments for people with limited mobility.
Until July of last year, the groom, 29, was an associate in the New York office of the Carlyle Group, an investment firm.
His mother retired as a teacher at St. John's Nursery School in Larchmont. His father retired as a partner in the New York law firm Cravath, Swaine & Moore.
Pictured here:  The bride and groom after the wedding.

Photo courtesy the family