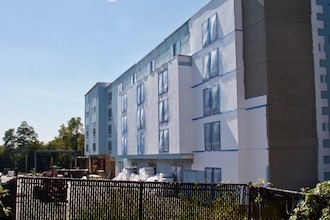 By Susan Miele

Oct. 3, 2018:  Out-of-town guests coming to visit? Lost your power and need temporary lodging? Have a client coming for a long meeting? Know someone visiting one of the local colleges? Accommodations will soon be available at a new Marriott Spring Hill Suites on Marbledale Road in Tuckahoe.
With an anticipated opening in the spring of 2019, the Marriott Spring Hill Suites will have 153 guest rooms on five floors and amenities that include a small swimming pool, street-level parking, and a stand-alone restaurant.
As a precursor to the building's construction, a cleanup of underground contaminants was required, resulting from the site's prior use as a landfill and industrial waste dump and, later, an auto-repair and storage shop. According to Tuckahoe Village Administrator David Burke, the environmental cleanup was completed according to plan, with New York State Department of Environmental Conservation standards being fully maintained, as confirmed by periodic testing. Facade and other work are currently under way, and electric, plumbing, and mechanical work are expected to begin soon.
This new Marriott will be a convenient place for visitors to the local colleges and hospitals as well as for out-of-town guests. The hotel can also accommodate business travelers but, according to Burke, it will not be equipped with large-scale conference rooms, and corporate retreats and conferences are not anticipated.
Management of the restaurant will be outsourced to a third party; that operator has not yet been determined, Burke said. 
Pictured here: The new Marriott Spring Hill Suites to open in the spring of 2019.
Photo by  N. Bower