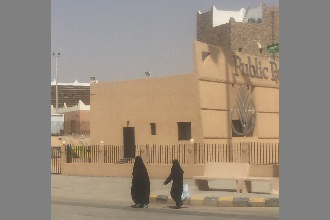 By Cristina Slattery

Apr. 11, 2018:  In February, I flew to Riyadh to interview high school students who will be applying to elite American colleges and universities. I was nervous as I stepped off the plane since it was my first visit to the kingdom, but I was delighted when I met a fellow American interviewer who had arranged the trip and the friendly driver who would take us to where we would be staying.
I was told I needed to wear an abaya – a black robe – at all times, and I put it on as soon as I got in the car to leave the airport. I also put on the headscarf and would wear it throughout my days in Saudi Arabia, although I was informed that it was becoming less important for women to cover their hair. (In an interview with CBS News in March, Crown Prince Mohammad bin Salman stated that Saudi women should not have to wear black abayas going forward – they should dress modestly, but he explained that the Koran does not specify exactly what type of garment a woman needs to wear; Saudi Arabia could soon look very different.) 
When I visited, the temperature was ideal--in the 70s and dry. I had some free time before I was to spend two full days interviewing girls who would like to study in the U.S., and I decided to go to a festival that had been recommended by a Saudi member of a Facebook writers' group I joined in 2017.
I attended this festival with the driver who had picked me up from the airport--we went in the daytime, and it was less crowded than it would be when people finished work--but it helped me to get a sense of the history of the nation and learn about the different regions of the country. 
Al Janadriyah was filled with exhibits and stalls where vendors sold foodstuffs and handicrafts. There was a woman wearing the niqab--a full face covering--who was selling brightly colored dresses for young girls, and there seemed to be a certain irony that this woman covered entirely in black with only her eyes visible was selling clothing in such exuberant colors.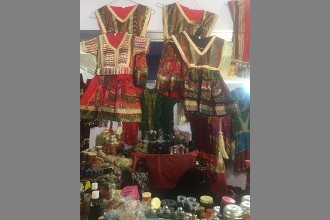 Saudi woman wearing black sells brightly colored clothing for girls and other products.
At Al Janadriyah, the military was showcasing its accomplishments as well. Weapons used in the past were featured in tents visitors could stroll through and a lot of information on anti-terrorism efforts was provided. As I do not read Arabic, I could not see if much coverage of the military operations in Yemen was given, but I tend to think the current conflict was not a focus, which makes sense from both a security perspective and perhaps from a public relations viewpoint.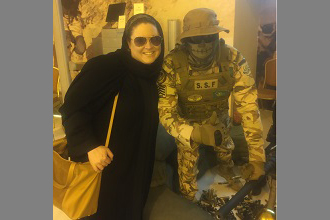 The author with a member of the Saudi Special Forces.
Five times a day, observant Muslims--Sunni Islam is the only permitted religion in Saudi Arabia--pray when they hear the distinctive call to prayer. When the call to prayer comes in the middle of the day, shops close and people resume their lives fifteen or twenty minutes later. These prayer breaks were observed when I was interviewing students who, despite their traditional Saudi dress, sounded like eager and ambitious teenagers anywhere when they talked. (All of the students I interviewed spoke English well.)
The girls I met played basketball, volunteered for local charities, and participated in Model United Nations, and many had visited Europe and/or the U.S. Some were artists and some hoped to study engineering or become doctors. A couple expressed their love of Agatha Christie's novels to me. One had just started a newspaper at her school the day I met her and another who suffered from diabetes said she hoped to invent an artificial pancreas in the future.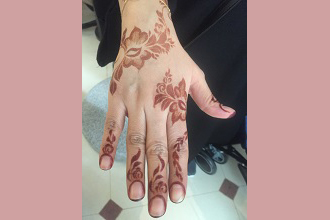 Woman's hand decorated with henna design that is typical of the region.
The students I interviewed were too young to drive, but women driving on the streets of Riyadh should be commonplace by the time these students graduate from high school. From my experience being driven in the city of six million people, I can say that I do not envy anyone driving on roads in Riyadh! There are hardly any stoplights, drivers are aggressive, and the number of reported accidents is very high. 
We passed the Ritz-Carlton several times, as it was on the way to where the interviews took place. This edifice--it is mammoth--is where many members of the Saudi establishment had been held by Crown Prince Mohammad bin Salman for activities related to corruption. As has frequently been noted in the Western press, this new leader is seen by a segment of the population in the kingdom as a visionary while others find the rapid pace of change that he plans a very unsettling notion. 
Before I left Riyadh, I visited the Al Faisaliah Tower. It is architecturally intriguing and I wanted to see the view of the city from near the top of the building. I also spent some time in the mall that is located there and walked by stores operated by international brands that would be familiar sights in upscale shopping malls worldwide. (The Starbucks I visited was not in this mall, but the coffee chain has come to Riyadh and there are separate sections for men and women, in keeping with Saudi customs.) When one enters and leaves Al Faisaliah Tower, a plaque that indicates that the building was opened on May 14 of the year 2000 is visible. For me, it was jarring, though not unexpected, to see the contractor listed as the Saudi Binladin Group.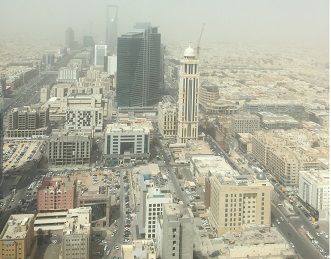 View of Riyadh from Al Faisaliah Tower.
Although I spent only a few days in the kingdom, I interacted with many impressive young students. Undoubtedly, some will experience culture shock when they come to study in the United States in the future. Change that couldn't have been anticipated even a few years ago is being ushered in by the current regime and the next generation is absorbing these changes and will likely be the key to leading the country to greater interconnectedness with countries such as the United States as the future unfolds. 
Pictured at top:  Saudi women wearing typical black abayas.
Photos by the author
Editor's note:  Freelance writer Cristina Slattery is a 1993 graduate of Bronxville High School and has written for The New York Times, The Wall Street Journal, Newsweek Japan, and many other websites and publications.

Editor's note:  As a public service, MyhometownBronxville publishes press releases, statements, and articles from local institutions, officeholders, candidates, and individuals. MyhometownBronxville does not fact-check statements therein, and any opinions expressed therein do not necessarily reflect the thinking of its staff.