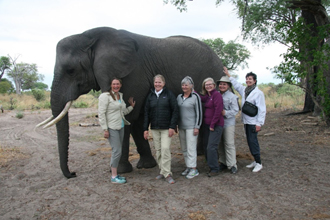 By Patricia Cotti, Bayside Travel

Mar. 21, 2018:  Botswana does not disappoint. It delivers a premier safari experience. It should move to the top of your bucket list of travel destinations.
Botswana is in the center of southern Africa. It is landlocked between Namibia, South Africa, Zambia, and Zimbabwe. It is about the size of the state of Texas and has a population of approximately two million. 
The majority of Botswana is a desert. However, there are seasonal rains and flooding from its neighbor to the north, Angola. This creates the Okavango Delta, named a World Heritage Site. This, then, becomes a wetland within a desert. As a result of this phenomenon, there is a great diversity of flora and fauna to be viewed.
It is important when visiting Botswana to stay in both water-based and land-based camps in the Okavango Delta. This offers different experiences and activities. The Linyanti, an area to the northeast of the delta, offers further diversification of wildlife and ecosystems and is an excellent combination.
The government of Botswana has an enlightened view of tourism (the second-most important resource after diamonds). The government practices sustainable ecotourism. They promote high-quality, low-volume tourism to create a sustainable industry that employs a large number of its people while still preserving the wildlife and conserving the environment. What does this mean to the visitor to Botswana? It means that the visitor experiences small luxury camps in remote areas with direct access to the wildlife--often visible from your own tent! You will experience close encounters with the wildlife but never in a viewing competition with other visitors.
Let me try to describe a typical safari experience. My international flight began in New York and ended in Johannesburg, where I connected to the city of Maun, Botswana. There we were met and taken to a twelve-seat light aircraft that would shuttle us between lodges. Upon landing, we were met at the runway strip in the bush by the land rover vehicle that would be the mode of transportation while we stayed at the camp.
There was a ride to the camp. Members of the camp staff were awaiting our arrival. We were greeted with a sung greeting in the native language, cold towels, and refreshments. There was a short briefing, which reminded us that we should always be escorted to our rooms before sunrise and after dark.
Each morning at about 5:00 am, we were awakened by a knock on the door. There are no phones, radios, or TVs. One morning I did not get my usual wake-up call. However, I realized that it was brighter than usual. So I rushed to get dressed fearing that I had been forgotten. All of a sudden came the knock on the door. No, I had not been forgotten. I learned that two large cape buffalos were grazing around my tent, making it impossible to initially get close to my door. 
A hearty breakfast was served by 6:00 am. By 7:00 am, we were off on the first activity of the day. We spent hours in the bush in search of wildlife and were never disappointed. We waited and watched animal feeding activities and social behaviors. Mid-morning, there was a bush tea/coffee break, complete with fresh baked goods followed by a "pit stop with a view." 
Brunch was served back at the camp, followed by a brief rest. After high tea, at about 4:00 pm, it was time for the second activity of the day. The animals are most active at sunrise and sunset as they move about in search of food.
"Sundowners" in the bush preceded dinner. We toasted each other and our good fortune while watching brilliant sunsets. Each evening we were lulled to sleep by the animal vocalizations, which initially caught our attention but eventually became familiar and recognizable sounds. This pattern was repeated as we moved to different locations and different individual camps.
There were always surprises—many surprises. The animals provided the most surprises. They were always very active and very numerous. We viewed families of lions in the shade of the Mopane trees or fording rivers; leopards resting on the limb of a tree; impalas, giraffes, cape buffalos, and zebras grazing on the plains; herds of elephants protecting the young while foraging for food; frenetic warthogs in constant motion; flocks of birds especially active in the delta.
Each lodge was a new and exciting experience. There were outdoor showers or tubs. Sometimes the resident baboon made an appearance at an inopportune moment. There were mango and guava smoothies in a basket in the bush in the middle of nowhere just waiting for us. There was a lunch picnic near a watering hole complete with buffet table, bar, dining table, and sofa cushions. 
We discovered the delta at sunset while peacefully gliding among a maze of reed and papyrus channels in a mokoro (a type of dugout canoe operated by a "poler"). It was a quiet, relaxing experience but the perspective at the water level was unique to view aquatic inhabitants.
Perhaps, the most amazing surprise came at Abu Camp where we had the opportunity to interact with the resident habituated elephant herds. There is an ongoing elephant research project. We were able to meet the elephants, learn their names, hear their often-difficult stories, and have our pictures taken as we fed, touched, and interacted with them and walked in the bush with them.
At night, we had an opportunity to sleep in a "starbed," a raised platform above but within the elephant boma. We were coaxed to sleep by the sounds of the sleeping elephants below us. That is, of course, provided that you were not too distracted by the star-filled sky overhead. All amazing experiences.
On this great adventure, we flew in small planes, drove in Land Rovers, and were transported in mokoros, little motor boats, and mud buddies. We stayed in small, remote land- and water-based camps. We viewed diverse wildlife and studied their activities. (Botswana has the largest concentration of elephants in all of Africa.) We not only saw elephants but we interacted with them and gained a much greater respect for these gentle giants as well as other animals and their adaptions to survival in the bush. Through all of this, we stayed in wonderful lodges and had delicious meals. The experiences are imprinted in my mind, my heart, and my soul. I am still processing the events.
Botswana is an exceptional place. It is the ultimate safari destination. Travel is truly a life-altering experience!
Move Botswana right to the top of your bucket list! You will not be disappointed.
Pictured here:  Patricia Cotti of Bayside Travel (far left) on a safari organized by Bayside Travel.
Photo courtesy Bayside Travel
Editor's note:  As a public service, MyhometownBronxville publishes press releases, statements, and articles from local institutions, legislators, and candidates. MyhometownBronxville does not fact-check statements therein, and any opinions expressed therein do not necessarily reflect the thinking of its staff.