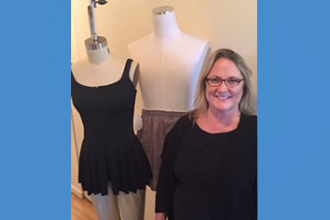 By Cecelia Taylor, Press Office, U.S. Small Business Administration

Jan. 27, 2016:  The U.S. Small Business Administration (SBA) announced earlier this month that Susanne Leary Shoemaker from Undercare, Inc., of Bronxville was one of ten finalists of the 2016 InnovateHER: Innovating for Women Business Challenge--a nationwide business competition that highlights innovative products and services created and launched by cutting-edge entrepreneurs. 
According to SBA Regional Administrator Kellie LeDet, who oversees the agency's programs and services for New York, New Jersey, Puerto Rico, and the U.S. Virgin Islands, an executive committee of SBA officials reviewed more than 180 semifinalist nominations and selected ten finalists whose products and services best met the competition criteria and presented the greatest potential for success. 
"Susan Leary Shoemaker has come up with an innovative idea, design, and concept that allows men and women with ailments and disabilities to put their undergarments on with ease," said LeDet. "We are so proud that Susan has reached the final stage in the InnovateHER Challenge. We certainly hope that she is able to [go] on and win one of the three prizes that will be awarded in March and give Undercare the necessary seed money to bring its products to market." 
The ten finalists are invited to the National InnovateHER: Innovating for Women Business Challenge during Women's History Month in Washington, D.C., where they will pitch their products and ideas to a panel of expert judges and have the opportunity to compete for the top three awards totaling $70,000 in prize money provided by Microsoft.

Pictured here:  Susanne Leary Shoemaker, finalist of SBA Innovating for Women Business Challenge.