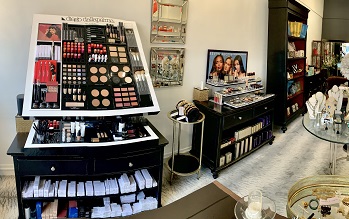 By Staff
Jul. 15, 2020: Maison Rouge is open and has moved to a new store located at 105 Pondfield Road in Bronxville. 
Maison Rouge was founded in 2002 with the desire to make women feel beautiful.
It is a luxury boutique specializing in fine cosmetics, skincare, and accessories. The Maison Rouge team will travel to Italy to evaluate and procure the highest quality products. They provide personalized services, and their vision is to create a unique, enjoyable, and educational experience for their clients.
The Maison Rouge team includes talented and knowledgeable experts in the beauty industry. 
Maison Rouge offers its wide range of beauty services, including make-up, skincare, eyebrows, and more.  They also work both on and off-site.
See Rouge to Go to learn more about Maison Rouge's off-site services. You can contact Maison Rouge at 914-779-8869.
Photo courtesy Maison Rouge

Note: To submit a Bronxville Business Brief, send information to CLOAKING

Editor's note: As a public service, MyhometownBronxville publishes articles from local institutions, officeholders, and individuals. MyhometownBronxville does not fact-check statements therein, and any opinions expressed do not necessarily reflect the thinking of its staff.