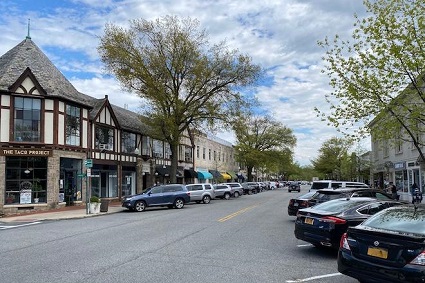 By Leah Caro, President, Bronxville Chamber of Commerce
May 6, 2020: The Board of Directors of the Bronxville Chamber of Commerce met via Zoom on April 24 to discuss its efforts to support and inform all business owners and residents about all things COVID-19.
Executive Director Shannon Gangemi has worked tirelessly to provide timely information to its members and others about developments in SBA programs, and how to get assistance, plus broadcasts about merchant offerings and availability, on its website and through email blasts. Nicki Piercy Coddington of Big Dog Design has been instrumental in getting the Chamber's message out clearly and effectively on its website.
Ms. Gangemi reported that the Gift Card program has generated approximately $13,000 for our local merchants. The program allows anyone to purchase a gift card in any amount from any participating merchant directly from the Chamber's website, including from merchants who have their e-commerce platforms.
Board Member Yoita Korinoiotu, owner of the Bronxville Diner, was delighted to share that NY Presbyterian/Lawrence Hospital ordered 255 meals a day for three days for its doctors, nurses, and other hospital workers. Other local restaurants have also been contacted to supply meals to the front-line hospital workers.
The Bronxville Farmers Market, usually a Saturday morning staple from April to November, is working with the Village to develop a plan to allow its opening in May so that Hudson Valley farmers and local consumers can benefit.
Scott Edlitz, of Booskerdoo Coffee, pointed out that supporting retail and restaurant merchants is tangible and pretty easy to do, but that our myriad service industries are hurting as well.
The real estate brokerages, law firms, investment companies, insurance providers, and technology support platforms that routinely give back to local events and charities are more cumbersome to support during this down-turn. Scott's recommendation (and it's a great one!) is to take this time to write rave reviews on Yelp, Zillow, Facebook, LinkedIn, and other social media.
And finally, Chamber of Commerce President Leah Caro reminds us that Bronxville Village is a remarkable place, with generous residents, and stead-fast business owners. Indeed, we are in this together and she urges your continued support of local retail shops, restaurants, and service providers so that we can continue to thrive and grow.
Please make sure to visit the Bronxville Chamber of Commerce website at www.bronxvillechamber.org for information for business owners, residents,
Photo by N. Bower
Editor's note: As a public service, MyhometownBronxville publishes articles from local institutions, officeholders, and individuals. MyhometownBronxville does not fact-check statements therein, and any opinions expressed do not necessarily reflect the thinking of its staff.