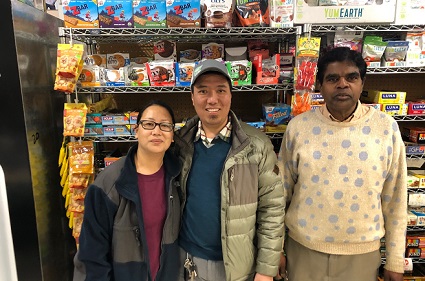 Mar. 25, 2020:  Bronxville Natural Market in downtown Bronxville has new owners. To get a sense for what they have, you can take a look at their website and Facebook page.. 
They also offer curbside pickup and delivery. 

Simply call 

(914) 779-3552, place your order and they'll have it ready for you or deliver. Best of all, delivery is free for orders over $20 and within 2 miles. 
On February 1st, Wangchu Lama and his wife Samden took over as the new owners of Bronxville Natural Market. Wangchu grew up in Nepal, and his family ran a small home stay in Helambu Village in eastern Nepal. They later moved to Kathmandu. 
Growing up, Wangchu was fascinated by American hikers and watching American movies. Before he emigrated to America when he was 23, he had not seen a building more than four stories high. 
Samden comes from a family of mountain guides. Her grandfather was one of the early guides, and tragically, her father died in an avalanche when she was young. 
Wangchu worked for 15 years at the Food for Health store at 93rd and 2nd Ave in NYC and worked his way up from cashier to assistant manager. It was there that he met Samden.
He then became the manager of Green Organic Market in Hartsdale for two years until the opportunity to purchase Bronxville Natural Market arose.
"It is my life's dream to put all I have learned to help people live healthier lives by eating and using organic products." 
Wangchu and Samden have two children (ages 12 & 5) and live in Dobbs Ferry. 
Why you should consider shopping at Bronxville Natural
-Full product line of 100% organic produce
-vacuum packed meats, organic foods, vitamins, and supplements 
-Lower pricing than Whole Foods, Mrs. Greens or CVS 
-Free delivery within 2 miles with $20 order or 3 miles with $50 order 
-Telephone orders gladly taken
-Shop local and support a healthy dynamic village

Bronxville Natural is located at 

86 Pondfield Rd in Bronxville.
They 

offer curbside pickup and delivery of shopping orders.  
Photo courtesy C. Biddle

Editor's note: As a public service, MyhometownBronxville publishes articles from local institutions, officeholders, and individuals. MyhometownBronxville does not fact-check statements therein, and any opinions expressed do not necessarily reflect the thinking of its staff.