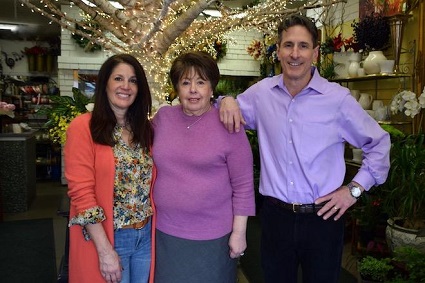 Anna Tryforos-Kenny, Mary Tryforos and Gary Tryforos
By Zahabia Brainch
Mar. 4, 2020: Gary Tryforos and Anna Tryforos-Kenny, siblings and co-owners of the flower shop Tryforos & Pernice in Bronxville, chatted with me on Valentine's Day.
It is one of their busiest days, and our conversation took place while they were putting together exquisite bouquets, answering phones, talking to customers, and making fun of each other. I wish all of you could have been a part of this conversation. It was so fun to be around this creative family and learn about their business that is now owned by the third-generation.
Gary and Anna's grandfather opened his first flower shop in 1907 on 125th street in New York City.  
"Back then," Gary said, "shopping was a gentleman's business. Everyone wore suits and shopped at the local stores: the haberdashery, the butcher, the florist."
Their father, James Tryforos (Jim), graduated from Syracuse University and subsequently served in the Korean War. On his return, he chose to join the family business.
In 1963, Jim and his two brothers closed the store in New York and opened one in Scarsdale and a satellite location in Bronxville. This is where the name "Pernice" comes in. Jim purchased the Scarsdale shop from Thomas Pernice and wanted to include the name "Pernice" in his new shop so that it was recognized by the community. Thus, Tryforos & Pernice was launched..
The Tryforos' recall selling only a bag of seeds on the opening day of the Bronxville store. But, lucky for us, they decided to keep the store open!  The store has now been in Bronxville for 57 years.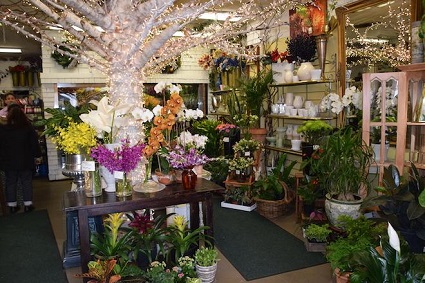 Gary and Anna gave up corporate careers to take over the family business, with no regrets. Their shop, Tryforos & Pernice, serves the community with unique and high-end flowers. Their business thrives on repeat customers. It is apparent they are passionate about what they do and excellent at their jobs.
An account of the store is not complete without a mention of Mary Tryforos, Gary and Anna's mom. Mary is the face of the store and usually the one to greet and help at the front.
The day I visited, Mary was arranging a bouquet of Dutch lilac, hydrangea, Calvados, Gerberas & foliage. 
"I got planted here somehow," she said, "I say when I don't want to be here, but I'm here most of the time."
As her daughter, Anna, said "That's the fountain of youth."
Statistics show that most family businesses fall apart by the third generation. The primary reason Tryforos & Pernice had been able to survive three generations, Gary says, is "because I'm such an incredibly nice guy, I let things go."
If you ask Anna, she'll say: "Gary and I get along best when we are working over Mary, tag-teaming her."
Jokes aside, if you ask me, this place is special and the real deal.
Tryforos & Pernice is located on 73 Pondfield Road in Bronxville.  Click here to go to their website.