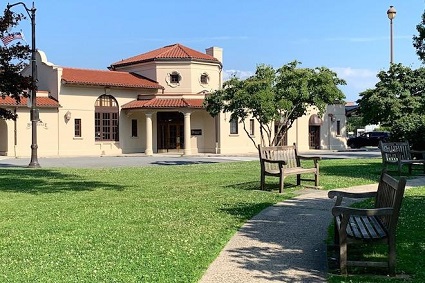 By Carol Bartold, Senior Reporter     
Jul. 10, 2019: After more than two years of seeking proposals for commercial tenants to occupy Bronxville Station, the Metropolitan Transportation Authority (MTA) announced in early June that two leases have been approved. Xarupa LLC has leased the entire 2,595-square-foot station interior space and The Coiffure Clique will occupy a 239-square-foot space, with its own dedicated entry, at the southwest corner of the building.
Xarupa LLC will reconfigure the station interior into an improved commuter waiting area as well as a café that will serve coffee on the go as well as morning meals. The plan also calls for a bar and lounge area to occupy 819 square feet in the building's northern end that will be open during evening hours.
The Coiffure Clique will offer high-quality hair styling, blowouts, and hair coloring, as well as have products for sale.
Although the MTA has not finalized a construction schedule, both businesses are scheduled to open in early 2020.
Under the terms of the lease, the new tenants will add over $200,000 in improvements to the building. Xarupa LLC will create a new seating area in the station's waiting room, upgrade restrooms, paint the building interior, and install new fixtures. The Coiffure Clique has agreed to upgrade a restroom and install laminate flooring and shelving in its space.
According to a Metro-North Railroad spokesperson, the manned ticket window will remain open during construction and after the tenant opens for business.
Sudhil Patel, owner of the coffee concession and newsstand that has been a fixture at the station since 1986, notified the Metropolitan Transportation Authority that he would close his business at the end of June. Although his lease on the space expired in 2016, he was granted a holdover month-to-month lease until Metro-North Railroad accepted a proposal for a new tenant.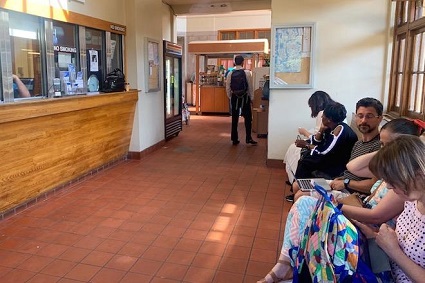 Waiting area of current Bronxville station. Photo by A. Warner.
Bronxville Station is owned and operated by Metro-North Railroad, a subsidiary of the Metropolitan Transportation Authority. As such, modification to the building is not subject to local village laws and regulations. The railroad has been designated as the construction and permitting agency. All design and permitting will be approved by that agency rather than the Village of Bronxville's planning board or building department. The agency has, however, offered to meet with Village Administrator Jim Palmer to review the reconfiguration concept.
"Every week, about 9,500 customers use the Bronxville Station," said Catherine Rinaldi, president of Metro-North Railroad. "Bringing new tenants to the station will not only improve the commute for these customers but will also help enhance the community's quality of life."
Pictured at top:  Bronxville Metro-North Railroad station in late April.

Photo by A. Warner