Feb. 5, 2019: Valentine's Day is around the corner.  Give a special gift from I Train With Juan, Bronxville Wellness Sanctuary or POSH or make reservations for a romantic dinner at Underhill's Crossing or Gigante.  Read below for more details!
Celebrate with this Great Offer!
15% off Gift Certificates! 
76 Main Street
Tuckahoe, N.Y.
914-473-3026
BRONXVILLE WELLNESS SANCTUARY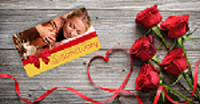 Valentine's Day Spa Gifts Of Self Love This Valentine's Day
Valentine's Day is nearly here.  Give Sanctuary Love with a Gift Certificate.
Purchase instant on-line gift certificates here. 
Choose from custom templates to print or email.  Or stop in to purchase & we'll gladly package it for you. 
Top 3 Favorite Packages & Series:
Be Well Package: 45 Minute Wellness Massage & 45 Minute Wellness Facial 
Meditation Classes: 5 Class Series 
Restore & Renew: 75 Minute Massage with Reflexology & 45 Minute Wellness Facial 
Not sure? Gift a dollar amount & let your loved one decide. Or why not stop by The Sanctuary yourself and have your Gift Certificate packaged up for you!
14 Studio Arcade in Bronxville
914-337-9356
UNDERHILL'S CROSSING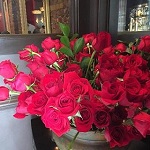 Love is in the Air
Celebrate at Underhills Crossing Restaurant
Love is in the air and Underhills Crossing Restaurant promises a wonderful Valentine's Day celebration for you and that very special someone! 
Underhills Crossing's  culinary staff has created a Valentine's Day menu to delight the senses; infusing an array of seasonal flavors with celebratory menu choices. 
MAKE RESERVATIONS:  914 337 1200.  
Lunch 11:30am-3pm 
Extended dinner service from 3-11pm.  
Valentine's Day Menu:  Along with our regular dinner menu, a prix-fixe, three-course Chef's Tasting Menu, will be offered.  Pair with champagne, a selection of fine wine, or our specialty cocktails, for that toast to someone special!  
Music:  Our piano player will fill the air with romantic songs from 7-11pm.  Each lady will receive a complimentary rose.
Underhills Crossing Restaurant
74.5 Pondfield Road, Bronxville
914-337-1200
POSH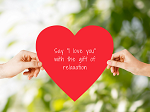 Roses are red, violets are blue, enjoy a spa day at POSH, we'd love to treat YOU! 
POSH was fortunate to have a very successful first Holiday season. Many thanks to all who have supported us as the new spa in town in our first year of business.  
It's February and love is in the air! What better way to say I LOVE YOU than with the gift of relaxation? Why spend hours at the mall when you can get your Valentine what they really want... a POSH Gift Card! They don't expire and can be used for any of our products or services. 
Call 914-361-1277 to purchase a gift card or make an appointment
Valentine's Day Specials
Enjoy during the month of February
Sweet Strawberry Facial  $150
Indulge in a customized Eminence facial with Diamond Microdermabrasion to smooth, cool marble stones to firm and tighten, and Strawberry Rhubarb Mask to hydrate and plump the skin. 
Head over Heels Facial $205/$285
Enjoy a 30 or 60 minute Reflexology session during your choice of facial. This ancient technique targets specific reflex points on the foot to induce a healing response in corresponding areas of the body. The ultimate in head-to-toe rejuvenation! 
Mimosa Sugar Scrub  $80
Reveal your smoothest, softest skin with this refreshing full-body exfoliation.  Experience rain-like streams of water while relaxing on our Hydrotherapy bed.
Red Rose Massage $130/$175
Take time to relax and smell the roses. Enjoy a 60 or 90 minute aromatherapy massage with a sweet red rose infused oil. Melt away tension with customized light to medium pressure, and the gentle application of warm towels. 
Spring break is just around the corner too! Get beach ready with a Spray Tan at POSH. In just 10 minutes you can get a customized golden glow that lasts for 5-7 days. As always, if you are heading into the sun, we recommend that you apply SPF 30 or above. 
118 Pondfield Road
Bronxville, NY
914-361-1277
CLOAKING
GIGANTE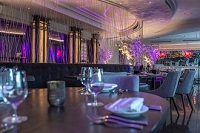 A Romantic Dinner at Gigante
Treat yourself and your special Valentine to a Valentine's Day dinner at Gigante, the exciting new restaurant located on the grounds of Lake Isle Country Club in Eastchester.  
Gigante is modern with a New York coolness and vibe and is incredibly attractive in every way.  
It is a unique dining experience with its art deco interior and its outstanding food, under the guidance of the Executive Chef, Samuel Kim, who creates Italian influenced American farm-to-table cuisine.
In addition to its well thought out menu there will be a couple of Valentine's Day Specials: 
-House-made Spaghetti with perigord black truffles
-Surf and Turf consisting of Filet Mignon and lobster with potato puree, spinach and a black truffle jus. 
This romantic day calls for dessert and Gigante knows how to make each one a worthwhile delight.  You can choose from
Warm Chocolate Cake with poached pear and pistachio ice cream, Hazelnut Panna Cotta with strawberries or a light fluffy cheese cake with pomegranate seeds. The ladies will receive complimentary homemade raspberry macaroons that evening.
It is best to call for a reservation for Valentine's Day.  The restaurant will be open from 5pm to 10pm.
660 White Plains Road
Eastchester 
914-961-1001

Photos:  Top photo by Pexels.com; other photos provided by participating companies
Note:  This content is sponsored by the participating companies