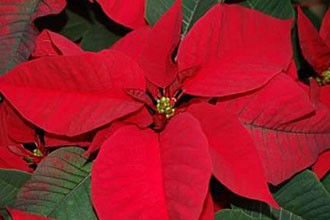 By Karen Talbot
Dec. 5, 2018:  You will find Holiday décor, food, gifts and specials at our wonderful local stores below!  Happy shopping! 
HOLIDAY SPECIALS FROM POSH!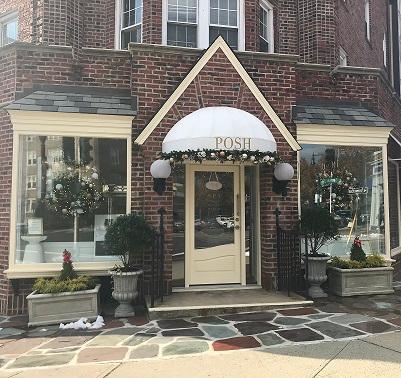 As the most wonderful (and most hectic!) time of the year begins, we remind you to take a break and enjoy a little relaxation. 
We will be offering 15% off all Gift Cards purchased in-store or online on Tues. Dec. 11! 
For the entire month of December there will be SPECIALS offered each day for the 25 Days of POSH.
These specials will be posted to the POSH Beauty Boutique Facebook, Instagram, and Twitter pages. Follow @poshbronxville to take advantage of these special offers.
Posh is not normally open on Mondays, but on Mon. Dec. 24 (Christmas Eve) we will be open from 9:00am to 6:00pm, and on Mon. Dec 31 (New Years Eve) we will be open from 9:00 am to 3:00 pm.
POSH Beauty Boutique is a luxury spa in the heart of the village of Bronxville.  We offer an extensive menu for you to select from including:  the very best facials, massage,eyebrows, make-up and spray tan.  
Call 914-361-1277 for an appointment or visit our website www.poshbronxville.com  to book your appointment online.
118 Pondfield Road
Bronxville, N.Y. 10708
914-361-1277
TONEY TONI HOLIDAY TRUNK SHOWS & SPECIAL GIFT ITEMS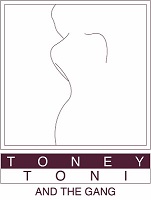 During the holiday shopping season Toney Toni and the Gang, a fashionable women's clothing store that has been in Bronxville for 23 years, will be filled with unique sweaters, blouses, coats, dresses, scarves and jewelry to wear to Holiday parties or perfect for gift giving.
They will also be hosting a Holiday Trunk Show December 14 & 15 featuring handmade jewelry by Ela Rae and scarves by Inouitoosh.
Breast cancer awareness month may be over, but the fight to find a cure is still on. Toney Toni will be selling its 14K rose gold with diamond Kim studs designed by Kim Linn & Ela Rae......'tis the season for gifting and giving back!  All proceeds go to the American Cancer Society - Making Strides Against Breast Cancer.
70 Pondfield Road
Bronxville, New York
914-793-0737
Store Hours:  Mon. to Sat.. from 10:00am to 6:00pm and Sun. from Noon to 5:00pm
Shopping by appointment is also available

GIVE THE GIFT OF SANCTUARY: BRONXVILLE WELLNESS SANCTUARY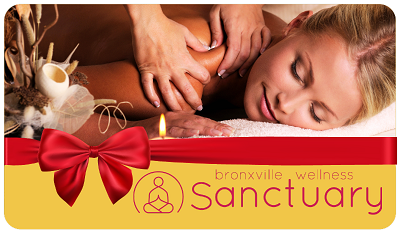 Bronxville Wellness Sanctuary builds on an ancient tradition of mind, body and spirit focus that is essential to total health, life balance, and true peace. Our clients experience an increase in well being by participating in our individualized holistic services. Our highly trained team is here to help you experience deep relaxation and healing.
For the Holidays, give the Gift of Sanctuary for body, mind & spirit with a gift certificate for a service-Massage, Facials, Energy Healing, Meditation... or gift a dollar amount. 
Sometimes the most productive thing you can do is relax!
Click here to purchase a gift certificate online.
14 Studio Arcade
Bronxville, New York
914-337-9356
HOLIDAY DECOR FROM TRYFOROS & PERNICE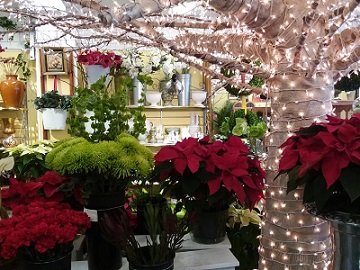 Tryforos & Pernice, family owned and run, has been decorating people's homes with beautiful flowers since 1963.  During this Holiday season, they are featuring show-stopping decorated table top trees.....handmade with fresh fir, magnolia or English boxwood in traditional or contemporary styles.  These 26" high table top trees can be made larger and taller with a few days notice.  They will last a month or so in your home.
There are lots of handsome wreaths and garlands made out of noble and silver fir, magnolia, boxwood, eucalyptus and juniper to choose from, and a variety of wreaths decorated for indoor use.
Everyone loves amaryllis and paper whites narcissus for themselves or as gifts, and these can come in decorative crates or terra cotta containers. 
73 Pondfield Road
Bronxville, N.Y.
914-337-2525
Store Hours:  Mon. through Sat. from 9am to 6pm and Sun. from noon to 5pm
CANDY ROX: SO MANY FUN GIFT ITEMS & STOCKING STUFFERS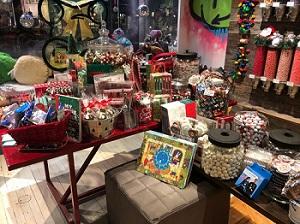 Candy Rox has an abundance of delicious candy and unique gifts for this holiday season. Stocking stuffer options for children as well as adults...everything from games, putty and collectibles to holiday socks, flask mittens and light up hats...something for everyone. Jewelry, bath bombs, pjs and of course our large assortment of Squishable pillows are just some more popular must haves this holiday.
New items such as our Pixel art sets are being touted as the modern day lite brite. Ukuleles in a range of colors and materials continue to be a hit and new musical products such "Rock and Roll It" piano and drum pads are two wonderful new additions that are flexible and portable and will inspire the musician in children ages 6 and up. New merchandise continues to arrive daily.
Whether for clients, employees, teachers, friends or family, customized baskets, platters and Candy Rox towers are the sweetest way to show your appreciation and spread some
As always, enjoy free gift -wrapping with all of your purchases and if you cannot make it into the store, shop candyrox.com or call us at 914-779-6750 and we can take your order over the phone and ship within the US. 
66 Pondfield Road
Bronxville, N.Y.
914-779-6750
MINI's PRIME MEATS & SPECIALTIES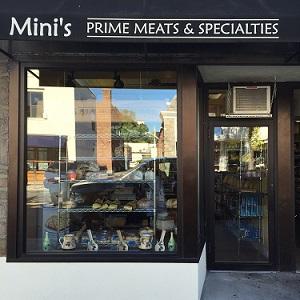 Mini's Prime Meats & Specialties has been a popular butcher store destination in Bronxville for 16 years.  Owner, Paul Chietro and his knowledgeable staff offer high quality products and everything you will need for a delicious dinner anytime of the year.
This unique ONE-STOP shopping experience will be featuring some specials for the Holidays.  In the beef department you can order a whole Filet Mignon, tied and ready for roasting or a Prime First Cut Standing Rib Roast.  You can also consider a Crown Roast of Pork (16 chops min) or a Whole Leg of Lamb, seasoned with rosemary and thyme and oven ready.  Easy to serve Spiral Hams and dozens of other meat and poultry choices are available.
About a year ago, Paul added fresh seafood to his store such as Farmed Salmon and Wild Cod. In the frozen section of his store are Maryland Crab Cakes and Seafood Cakes, made from crab, scallops and shrimp.  Everyone loves fresh shrimp which is peeled and deveined for Holiday gatherings.
Mini's makes it easy to complete a meal with an assortment of fresh seasonal vegetables or prepared sides of Sauteed Spinach, Twice Baked Potatoes or Cheesy Mac and Cheese. They also have a wonderful assortment of frozen Ravioli in many varieties.
Start your meal with noteworthy Appetizers:  Mini Quiche, Beef a la Wellington, Pigs in a Blanket or Sea Scallops wrapped with Bacon.  They also carry Dufour pastry selections:  Four Cheese Roasted Garlic Puffs, Smoked Swiss and Bacon Tartlets and Parisian Mushroom Pate.
Make your Holiday dinners with ease from their great selection of Appetizers, Mains and Sides.  Mini's is a truly unique shopping experience and don't forget the fresh breads from Arthur Avenue, their dried pasta and fresh or frozen sauces such as Bolognese or Marinara.
MINI'S PRIME MEATS & SPECIALTIES
15 Park Place, Bronxville
914-779-1948
Store Hours:  Mon. - Sat. 8:00am to 6:00pm
LUCENTE NURSERY:  FOR YOUR CHRISTMAS TREES AND WREATHS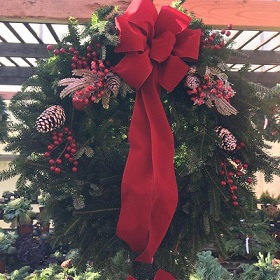 Lucente Nursery has everything for Holiday Décor, including fresh cut Fraser fir trees ranging in size from 4 ft. up to 15 ft tall. 
An added feature is they can deliver and install your tree for you.  They also have beautifully decorated or plain Fraser fir wreaths from one foot to five feet in width.
The Holidays are not complete without handsome poinsetta's in a variety of sizes from 4.5"....6"....8" and 10" in red, white or pink.  Roping is available in garland (western cedar) or Douglas fir and in boxwood to decorate your front door, mantle or stairway.  Other items to consider are attractive mantle pieces, centerpieces and fresh Holiday arrangements.  
Buy Holiday plants or paper whites for yourself, a loved one or as a hostess gift.  
Lucente also carries, lights, tree stands, ribbons, bows and more!
Come and see the large Santa on the property, which children can sit on his hand and pose for pictures.....perfect for Christmas cards.  They also allow photographers to come and use their property as a backdrop for pictures. 
1 Askins Place
New Rochelle, N.Y.
914-632-5599
Store Hours: Mon. through Sat. from 9am to 5pm and Sun. from 9am to 3pm
Top photo:  A. Warner
Note:  This content is sponsored by the participating companies