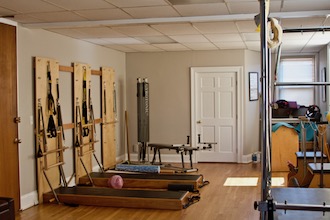 By Susan Miele

Jul. 4, 2018: While day-to-day meanderings around the Bronxville business district allow for the ease of spotting boutiques and restaurants, there are many less-visible businesses worthy of a gander. Looming above the storefronts are hundreds of facilities representing a variety of business types from service providers to non-profit organizations. We'll take a peek inside some of these hidden gems, starting with Smart Moves Pilates, located on Park Place.
Smart Moves Pilates owner Mary Siegel believes that "exercise is the medicine of the new millennium."
Siegel studied Pilates at the Kane School of Core Integration in New York City and Thai Yoga bodywork with Jonas Wresting. After a serious accident that left her with several herniated discs and chronic pain--plus a diagnosis of fibromyalgia--Siegel found relief of pain and stiffness in the Pilates method, which also offered the added benefit of breathing techniques that helped with the associated stress and anxiety. She began teaching the technique in 2000.
Located at 15 Park Place since November of 2017, Smart Moves moved to Bronxville from Oak Avenue in Tuckahoe. This is the studio's second foray in town, as Siegel previously sublet space from a chiropractor at 85 Pondfield Road until that lease expired.
Both mat and equipment classes are available, and props include Physioball, BOSU, and foam rollers. According to Siegel, instruction maintains the standard Kane School emphasis on proper biomechanics and muscular awareness.
A one-woman operation, Siegel values maintaining a close and personal relationship with her clients. She specializes in one-on-one training but anticipates forming small groups in the near future. Classes are offered by appointment Monday through Saturday beginning at 6:00 am most days. Evening appointments are also available.
First-timers can take advantage of Siegel's one-time introductory offer of three 50-minute private sessions with equipment for $200 (the second and third sessions expire three weeks after the first class). Savings are also afforded via the purchase of multi-class cards. Regular rates, which vary depending on the type of class and the number of participants (private vs. semi-private), can be found on the studio's website. Visa and MasterCard are accepted; personal checks are not.
"I'm totally invested in helping my clients understand their bodies, observe themselves, and learn to correct themselves while they work and exercise to avoid injuries," Siegel said. "I'm interested in them becoming their own advocate and applying what I teach to their everyday life because I've learned most injuries happen because of bad posture and repetitive faulty movements. And aging gracefully requires an erect, strong posture."
Smart Moves Pilates
15 Park Place
917-862-5227
CLOAKING
http://www.smartmoves-pilates.net/home.html
Pictured here: Smart Moves Pilates.
Photo by N. Bower