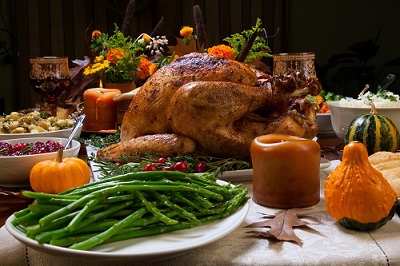 By Susan Miele

Nov. 16, 2017:  Grace your Thanksgiving table with goods and services you can find right in town!  Whether you'll be dining at home or at a restaurant, cooking or ordering in, you'll find everything you need!
Place your orders and make your reservations—pronto. Below is a Bronxville Thanksgiving Guide!
The new kid on the block is Ladle of Love, whose "Family Feast" (serving 6 persons) includes Harvest Celebration Soup, roast turkey breast, Stuff(ing) of Life, maple-sage roasted roots, mashed potatoes, roasted Brussels sprouts, velvety sauvignon blanc gravy, and cranberry-Grand Marnier relish. A la carte items are also available, from alternative entrées like ham and beef to embellishments like spinach-and-mushroom lasagna, wild-mushroom quinoa risotto, apple-pear crisp, and more. 
Scarborough Fair Catering's Thanksgiving menu includes an assortment of starters, from baked raspberry and brie rolls to fall squash soup with apples and pear. Both turkey and alternative entrées are offered, with tantalizing sides like roasted root-vegetable medley and sweet potatoes au gratin. A selection of breads and desserts round out the meal.
Lange's is offering a traditional Thanksgiving menu, including stuffing with sausage, green-bean almondine, a cold roasted sweet-potato salad, spiced pumpkin bisque, and other selections. Desserts include bread pudding, apple cake, and mini pies.
Bronxville Diner has catering options as well. Pre-order your turkey dinner, replete with traditional trimmings, by November 19. Service for 8-10 people: $160. Additionally, 19 pies are available, including sugar-free options (these require one week's notice). 914-779-1777 or  CLOAKING .
Dobbs & Bishop Fine Cheeses is offering traditional pies and other baked goods—among them fig-hazelnut bread, potato-onion fendu, and scones. Order pies by November 17 and other baked goods with three days' notice.
Underhills Crossing will offer a three-course dinner from noon to 8:00 pm on Thanksgiving and can also accommodate catering orders. Make your reservation online: https://www.opentable.com/underhills-crossing-restaurant.
Turkeys can be ordered from Bronxville Natural, whose turkeys are natural and non-GMO, or from Mini's Prime Meats & Specialties, which is also offering hors d'oeuvres and accompaniments.
Chantilly Patisserie is offering apple, pumpkin, and pecan pies and will be open on Thanksgiving Day for pickup from 7:00 am to noon. Orders due by November 19.
At Topps Bakery, special Thanksgiving-themed fine chocolate creations are being featured. Custom cakes can be ordered through Monday, November 20, in time for Thanksgiving pickup.
Cooking? Womrath Bookshop has perfectly timed cookbooks and other resources to guide you—from Holiday Entertaining to Lomelino's Pies and What's a Hostess to Do? Whether your speed is traditional apple pie or "Drunken Nectarine Pie with Pecan Streusel" you'll find recipes that inspire.
Bronxville Wines & Spirits will accept special orders to arrive in time for pre-Thanksgiving pickup or delivery through Friday, November 17. The shop has expanded its aromatic white, pinot noir and red zinfandel selection just in time for the holiday.
In case you missed it: Check out the New York Times article "To Pair With That Thanksgiving Bird, Consider Beer"—then head to Beer Noggin to make your Thanksgiving selections.
Bronxville florists are the best resources for Thanksgiving centerpieces. National chains add a middleman, and quality is inconsistent. Rely on Mrs. Morgan's Flower Shop, The Flower Shop of Tryforos & Pernice, and Green Wood Florists and keep those greens local. Order your arrangement in advance.
The Silk Road, Mano A Mano, and Kensington Paper all have elegant table décor—from turkey platters to disposable turkey placemats, autumnal candle holders to dishes bearing inspirational messages of gratitude and more.
For the greatest of ease, Value Drugs is carrying Thanksgiving paper goods—just toss when the meal is over!
Womrath Bookshop has a wide array of children's Thanksgiving books, as well as Thanksgiving Mad Libs, a seasonal Springbok 1000-piece puzzle, and reminders of the purpose of the holiday: Poems of Gratitude and Give Thanks: A Thanksgiving Companion.
The Reformed Church of Bronxville invites the public to its annual Community Thanksgiving Dinner on Thursday, November 23, at 11:30 am. The suggested donation is $15; RSVP by November 17.
Where to find them:
Beer Noggin
102 Kraft Ave
914-337-7400
www.beernoggin.com/
Bronxville Diner
112 Kraft Ave
914-779-1777
Bronxville Natural
86 Pondfield Rd
914-779-3552
Bronxville Wines & Spirits
98 Pondfield Rd
914-337-5090
bronxvillewinesandspirits.com/
Chantilly Patisserie
135 Parkway Rd
914-771-9400
www.chantillybronxville.com/
Dobbs & Bishop Fine Cheeses
107 Pondfield Rd
914-361-1770
dobbsandbishop.myshopify.com/
The Flower Shop of Tryforos & Pernice
73 Pondfield Rd
914-337-2789
www.tryforosflorist.com/
Green Wood Florists
6 Cedar St
914-305-1511
bronxvilleflowers.com/
Kensington Paper
82 Kraft Ave
914-793-2619
kensingtonpaper.com/
Ladle of Love
18 Palmer Ave
914-346-8883
docs.wixstatic.com/ugd/157414_7410205dd5fe44bd9ee50b8552876003.pdf
Lange's Deli of Bronxville
94 Pondfield Rd
914-337-3354
www.langesofbronxville.com/Home1
Mano A Mano
81 Pondfield Rd
914-793-8329
https://www.facebook.com/MANO-A-MANO-150696944964443/
Mini's Prime Meats & Specialties
15 Park Pl
914-779-1948
minisprimemeats.com/menus/
Mrs. Morgan's Flower Shop
145 Parkway Rd
914-337-2337
www.flowershopbronxville.com/
The Reformed Church of Bronxville
Entrance on Midland and Kraft Ave
914-337-6776, ext. 153
Scarborough Fair Catering
82 Kraft Ave
914-337-2735
scarboroughfaironline.com/index.htm
The Silk Road
101 Pondfield Rd
914-337-2177
www.thesilkroadny.com/
Topps Bakery
106 Pondfield Rd
914-337-4258
www.facebook.com/toppsbakery/ 
Underhills Crossing
74.5 Pondfield Rd
914-337-1200
www.underhillscrossing.com
Value Drugs
80 Pondfield Rd
914-337-2520
valuedrugs.net/bronxville/ 
Womrath Bookshop
76 Pondfield Rd
914-337-0199
www.womrath.com  
Happy Thanksgiving!

Photo by Shutterstock