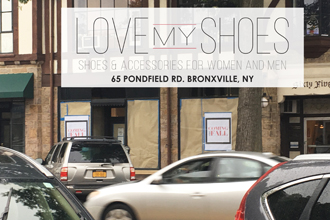 By Erica Martin, Marketing Coordinator, Love MY Shoes

Sep. 27, 2017:  A new shoe store called Love MY Shoes is about to open at 65 Pondfield Road in the middle of the Bronxville business district. The owners say they are a small family company that has been in business since the '90s.
On November 6, 2016, the store, which was located in Larchmont at the time, was involved in a horrible fire that destroyed everything. The owners subsequently decided to move to Bronxville.
The new location has 2,000 square feet of space with shoes for the entire family. Featured are kids', men's, and women's shoe styles. There will also be a large selection of boots--the big trend right now.
Love MY Shoes's goal is to become the go-to place in Bronxville for family shoes. The shoes are fashion forward, simple, and comfortable.

Pictured here:  The location on Pondfield Road where the store Love MY Shoes will open.
Photo courtesy Erica Martin, Marketing Coordinator, Love MY Shoes