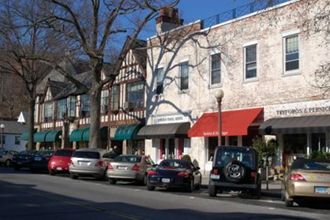 By Carol P. Bartold, Senior Reporter                    

Sep. 20, 2017: Despite an uptick in empty storefronts in Bronxville's downtown business district, Mayor Mary Marvin and Jonathan Gordon, president and CEO of Admiral Real Estate Services, are seeing good momentum toward attracting tenants to lease the spaces.
Gordon stated that approximately 6,800 square feet of commercial space is unoccupied in approximately five storefronts in the village.
Admiral Real Estate Services, according to Gordon, has recently signed three leases. One Love Foundation and Love Shoes, from Larchmont, have leased space on Pondfield Road. An herbal apothecary shop will move into the former Pure Mountain Olive Oil shop on Kraft Avenue. In addition, a juice bar is slated to open on Cedar Street in the space vacated by Stipo Optical.
A lease is in negotiation for the former North dress shop on Pondfield Road.
In courting tenants for village properties, Gordon has noticed that interest in commercial and storefront property in Bronxville comes from businesses that deal in "anything that can't be bought on the Internet." Marvin concurred, saying, "If people can buy something at midnight on the Internet, it's very hard for village merchants to compete."
Both Gordon and Marvin recognize that the village code was written during an era when soft goods retailers formed the backbone of the downtown business district, the very businesses that have been hit hardest with the rise of Internet commerce. "The village code was written in an effort to curtail parking and traffic issues," Gordon said. "Soft goods stores tend to generate less vehicular traffic."
Marvin emphasized that in revising the community plan, the village must change to allow for the new reality that service-oriented businesses must be included in the retail mix. "We can no longer ban service business on the first floor," she said. "Those days are gone." She added that the trustees are mindful of the need to allow service businesses to open without losing the authenticity and ambience of the downtown business district.
Gordon observed that allowing more service-oriented businesses to open primes the pump for soft goods stores. "It creates a snowball effect," he said. "We need to get more people into the village to patronize businesses."
The good news, Marvin said, is that a revitalized retail mix and marketing committee has generated interest in Bronxville. Made up of merchants, commercial property owners, residents, and others, the committee galvanized its attention toward the empty stores and locating viable tenants.
Marvin is grateful for the short-term success in generating positive energy about the village. At the same time, she recognizes that much work lies ahead in addressing such issues as traffic flow, traffic safety, and parking.

Pictured here:  A section of the Pondfield Road business district. 

Photo by A. Warner