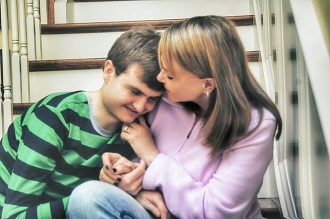 By Staff

May 3, 2017:  A tiny clothing company founded in a spare bedroom in Bronxville is now the leading off-brand on Zappos.com/Adaptive, a new e-commerce site recently launched by retail giant Zappos.
Zappos teamed up with Independence Day Clothing to create an "adaptive" category on Zappos's $1.2 billion shoe and apparel website.  
The partnership came from humble, Bronxville-based beginnings.
Four years ago, Bronxville native Lauren (Trownsell) Thierry was overseeing her son with autism, Liam, get dressed--a daily necessity, as Liam lacks the motor planning and manual dexterity to zip, button, or snap, let alone tie a shoelace. He barely had his underwear on one morning in 2013 when his little yellow school bus pulled into their driveway on Courseview Road.
"Utter panic," is how Lauren described what would be a momentary "timing snafu" in any other household. "If Liam can't get dressed by himself on time, that bus pulls away, I'm left standing next to a half-dressed kid and a late arrival to work."
So Lauren broke the "rules" of letting Liam practice dressing at his own pace. She tossed a shirt over his head, jammed his feet into shoes, and whisked him into the waiting bus.
Over a lunch break that day, Lauren sat down and wrote a 20-page business plan to stop that breathless, recurring scenario for some five million autism mothers, as well as 45 million moms who run similar obstacle courses with their kids with other disabilities, each morning. The plan called for a fashion line that fits front/back/reversible with no buttons, no zippers, no scratchy tags--a foolproof way to dress for those who otherwise cannot easily dress themselves.
What began as a novel idea and a homegrown website in 2013 caught the attention of mega-seller Zappos in early 2016.
Lauren knew she had a concept, but how to execute? "Simple," said Lauren. "You call all your Bronxville friends and say, 'Help.'"
Help was certainly needed. By her own admission, Lauren has "no fashion sense, no fashion knowledge. I just know what needs to work for this population."
Luckily, Bronxvillians Elizabeth Ackerman and Anja Cooney had fashion sense to spare--and share.
Elizabeth stressed good fabrics, like those from her own line, Elizabeth Ackerman New York. She became ID's guru of stretchable, easy-care fabrics, borrowing from her own classic designs and "adapting" them for the disabilities market with magnets, elastic, and breakaway Velcro. Anja added edgy components to keep the line from skewing "too preppy."
Jay Ackerman picked up his camera and shot the line, featuring some models with special needs and some Bronxville teens with already-impressive modeling and acting resumes--Arielle Rothman, Andrea Shepherd, Alexa Shepherd, Josh Geiling, and George Cooney. "They just had to be up for the shoot and to demonstrate what makes Independence Day Clothing unique," said Ackerman.  
Armed with samples and models, the ID Clothing project was marketed by another Bronxville couple--former BBDO ad executives Janet Lyons and Dennis Berger. "They came up with a plan that showed the line's potential to serve the disability market in a fun way--as well as the mainstream crossover potential. Jeff Cooney shot a big-budget video of the line, and--bam!--Zappos was sold on the idea," said Lauren.
"Zappos is our big shot to prove that the disabilities demographic is viable, marketable, and represents the inclusion and acceptance so many of us have fought so hard for," said Lauren. So hit Zappos.com/Adaptive and check out the merchandise. "Let's show the big boys Bronxville can play in their sandbox." 
Pictured here:  Lauren Thierry with son Liam.
Photo by Jeff Matsler