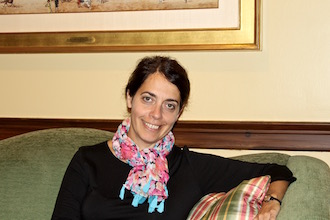 By Susan Miele, Executive Director, Bronxville Chamber of Commerce

Feb. 8, 2017:  The Chamber announces the 2017 Board of Directors:
President:  Francine Smith, Hunt Woods Manor Design
Vice President:  Michele MacMillan, Paws & Play Pet Resort
Treasurer:  John Lugano, Pete's Park Place Tavern
Secretary:  Louis Maggiotto, Nobile, Magarian & DiSalvo
Advisor:  Stephanie Weston, The Westchester Bank
Counsel:  Joan Iacono, Joan Iacono, Esq.
Directors
Wayne Chessler, Park 143 Bistro & Fish
Yiota Koriniotu, Bronxville Diner
Bob Krause, Mrs. Morgan's Flower Shop
Nicole T. Namy, State Farm
Barbara Nichuals, Bayside Travel
Paul Ranieri, D.C. Ranieri Insurance Company
Joern Tittel, Bronxville Wines & Spirits and Topps Bakery
Susan Unger, CloudBar, LLC
Steve Singer of Provisions for Pets and Johnny Lee of Lewiko Imaging Art and Bronxville Stationers are to be thanked for their years of service on the board.
Valentine's Day
Looking to dazzle your valentine with jewelry? Bronxville offers three fine jewelers to choose from: La Gravinese Jewelers, Bronxville Jewelers, and Citrine.
Sending flowers? Please don't order from a national company. Not only do your local florists outshine all others, but spare yourself the third-party broker to get a better bouquet for your investment. Mrs. Morgan's Flower Shop (914-337-2237; 145 Parkway Road) and Tryforos and Pernice Florists (914-337-2525; 73 Pondfield Road) both provide unbeatable service.
Book your hair appointment early at Fabio's Hair Studio: 914-337-1482; Continental 109: 914-793-4198; Studio One: 914-337-0088; or Blow & Beyond--which recently added haircuts and makeup applications to its growing list of services--914-779-2100.
Ernie's Wine Bar + EATS is accepting reservations for its special Valentine's Day feast. Seatings are 5:30 pm and 8:30 pm. The prix-fixe menu will feature a glass of pink bubbly, tomato basil soup, choice of baked cod in saffron broth or veal lasagna, cheese plate and salad, chocolate mousse, and wine with each course. $75/person. Call 914-652-7859 for reservations. 7 Pondfield Road.

Lydia Maria Petrosino of Lydia Maria Real Estate has a side gig as an astronomer! She'll co-present a view of the night sky at the Hayden Planetarium's "Romance Under the Stars" event on Tuesday, February 14, in honor of Valentine's Day. For further info and tickets: 914-212-769-5200.
Attend Bronxville Wellness Sanctuary's Guided Meditation on Self-Love on Tuesday, February 14, 6:45 pm to 8:00 pm, at 14 Studio Arcade. RSVP: 914-337-9356. $25 cash or check, please. Bronxville Wellness Sanctuary is also offering gift certificates--a great gift for that special valentine of yours! 

Is your sweetheart treating you properly? One Love Foundation can help you distinguish a supportive, loving relationship from an inappropriate or abusive one.
Weathering the Winter
It's been a mild winter so far, but it ain't over yet! Here are some resources to keep in mind:
Besson Oil is ready to serve all your oil heating needs--as they've been doing since 1835! 914-779-0008
Need to be shoveled out? Snow-removal services are offered by Michael Serio Tree Care (914-771-8733) and Edward Lange (914-337-2628). Leave the heave-ho to them!
Pipes burst? Tony Giannoni can restore your service!
If icy roads result in a collision, several Chamber members offer 24-hour towing: Merit Auto Body, Bronxville Auto Collision, and Ultimate AutoBody. They also can help with repairs and insurance claims--so keep their number handy!
Leave your care at home and enjoy the added convenience of door-to-door service! Call Bronxville Depot Taxi or Eastchester Trip Service.
FitWalk has winterized its fitness classes by relocating from outdoors to in for the season! Classes meet at Studio B Dance Center in Eastchester.
The winter is a great time for bargains! Toney Toni and the Gang, for one, announced that all sale merchandise is now 50% off! 70 Pondfield Rd.
Comings, Goings, and Redesigns
Underhills Crossing has a new look! Check out the restaurant's makeover. Stop in to see for yourself at 74.5 Pondfield Rd. 914-337-1200.
The Chamber is sad to announce that Citrine will be closing its store on February 25. Meanwhile, take advantage of a 50%-off jewelry sale at 22 Park Place--but be sure to act quickly before it's gone!
In other news: Boo Gemes has moved out of its shared location with The Silk Road, but fear not: Merchandise is still available--and still local! View Boo's website and note that the contact information is 914-364-8340; 4 Sunny Brae Place.
Bronxville Fish Market on Cedar Street has closed, but Park Place Bagels II is now open on Palmer Avenue!
Staying put: Congratulations to Lydia Maria Real Estate on 22 years in Bronxville and the start of its 23rd year! Don't forget that the office is now located at 65 Pondfield.
21st-Century Updates
J.Pocker Custom Framing and Prints since 1926 asks what is your inspiration for spring? Bring them your Instagram inspirations or any photos or fabric samples when selecting frame designs for your next project. Do you wish to create a gallery wall of travel mementos? Design a fabulous mirror for over a sofa to reflect a painting hanging on an opposing wall over a mantle? Let them inspire you! Open Tuesday-Saturday 10:00 am-5:30 pm. 65 Pondfield Rd. 914-337-7100.

Savanna at Home has replaced consignment offerings with an all-new stock of quality new furniture! Owners Frank and Patty Canale continue to offer window treatments and upholstering services as well. The shop has been in Bronxville for 15 years and is grateful to the community for its support. Stop in at 116 Pondfield Road; 914-337-9400.
Events
Buy tickets online today for the Junior League of Bronxville's Vino & Vendors Friendraiser event, which will be held on February 10 at the Bronxville Field Club from 7:30 to 10:30 pm ($40/solo; $75/pair). There will be unique vendors, as well as a live and silent wine auction featuring over 30 lots from Bronxville Wines & Spirits.
Station Plaza Wine & Spirits will host a Spanish Red Wine Tasting Series all weekend, February 11-12! Stop in at 102 Kraft Ave to imbibe!
Your Feedback

Do you have feedback about this newsletter? Please email CLOAKING . We'd love to hear from you!
 
Follow us on Twitter (@BXVChamber) and Like us on Facebook. Mail addresses are never given out or sold.
Be Loyal--Buy Bronxville!
Susan Miele