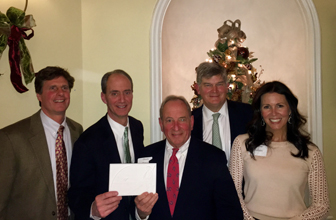 By Ellen de Saint Phalle, Member, Board of Directors, The Bronxville Historical Conservancy

Jan. 4, 2017:  The Bronxville Historical Conservancy (BHC) co-chairs, Erin Saluti and Jack Bierwirth, welcomed close to 100 members to its annual meeting and holiday party on December 14 at Siwanoy Country Club. 
Highlights of the evening included a video presentation by Stafford Meyer of the year's programs and events, the introduction of three new board members, and the presentation of the 2016 Preservation Award to Houlihan Lawrence for the exterior restoration of the Prescott Farm Gate Lodge, Historic Headquarters of Lawrence Enterprises, currently the 4 Valley Road office of Houlihan Lawrence.
The three new board members are Jim Hudson, Marc Garbarini, and Suzanne Pratt Davis. 

Jim Hudson, a lifelong resident of the Bronxville community, has served in leadership roles in many organizations locally, regionally, and nationally. His most recent local contribution has been his seven years of service on the Bronxville Board of Education, including two years as its president. 

Marc Garbarini brings 25 years of advertising experience to the BHC. A creative director/art director, he has volunteered his branding talents within the community developing designs for The Bronxville School Foundation, Westab Day Spring Community Center, and BHC's Ghosts of Bronxville event. 

Suzanne Pratt Davis is an award-winning financial journalist who has shared her expertise with the Bronxville School PTA as co-chair of development and communications. She has chaired the school's Memorial Day fundraiser and the PTA's most recent auction, which helped raise $600,000 for the school's library renovation. 
Welcoming all three to the board, Erin Saluti said, "These three individuals bring a wealth of talent to our board as well as a deep appreciation for our village and commitment to the Conservancy's mission." Saluti also acknowledged outgoing board member Bill Dowling and thanked him for his thoughtful service to the BHC.
The highlight of the evening was the presentation of the 2016 Preservation Award. Presenting the award, Saluti confided, "Several major and important projects were considered, and it was clear from the start the committee had a difficult choice to make. Although each of the projects submitted [was] deserving of an award, the exterior of the Gate Lodge at Houlihan Lawrence Real Estate stood out as a demonstration of excellence in terms of fidelity, sensitivity, and compatibility with the original structure." 
Accepting the award, Houlihan Lawrence president and CEO Stephen Meyers thanked "the talented team responsible for the project: Annette Carpino, the project manager; Nancy Seaman, chairman and designer; Dean Davis, architect; Peter Kieltyka, general contractor; and Maureen Hackett, landscape designer." He then asked the team to stand and be recognized before accepting the award on their behalf. The award is a bronze plaque designed by architect and BHC board member Anderson Kenny. 
The official meeting concluded with the presentation of the Preservation Award. Board member Judy Foley received grateful applause for organizing the annual celebration as members continued to linger, enjoying cocktails, hors d'oeuvres, and conversation. 

Pictured here:  E. J. Kelly presenting the 2016 BHC Preservation Award to Houlihan Lawrence.

Photo courtesy Judy Unis