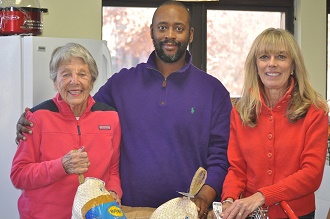 By J. Murrer

Nov. 23, 2016:  The Senior Citizens Council of Bronxville and Tuckahoe (SCC) has been preparing Thanksgiving baskets (20 in all) for families in need in the Tuckahoe area for over 15 years.
This wonderful tradition started when Audrey Sullivan, the SCC chairman at the time, suggested that the council give turkeys to the Tuckahoe CAP (Community Action Program) to distribute to families on Thanksgiving. The council used a meeting room at the Tuckahoe location for its monthly meetings and thought it would be a nice gesture to help with CAP's food-distribution program for low-income families.
After several years of donating turkeys, the council decided to add the rest of the Thanksgiving feast and started making up baskets with everything a family would need for the holiday meal. Each council member donates to the project, along with others who have heard about the project over the years.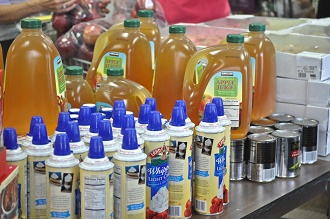 Lorraine Mohan and Bumpty McGrath oversee the project and have it down to a science. A group of about ten council members meets at Costco the week before Thanksgiving, and within an hour they gather all the food and load it up to take to the CAP center.
An assembly line is started upstairs and the baskets are finished and ready by noon. Every family gets a 20-pound turkey, vegetables, stuffing, cranberry sauce, rolls, pie, and whipped cream, and the baskets are all packed with love.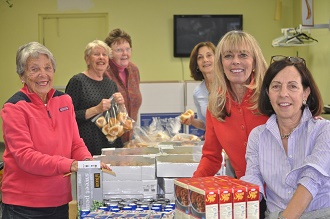 Council member Veronica Darcy said, "There is a group of us that have been doing this for years, and we always look forward to the shopping and assembling the baskets; it's one of our traditions on the council."
The Senior Citizens Council of Bronxville and Tuckahoe is made up of members from both Tuckahoe and Bronxville who oversee the community centers for older adults in both villages.

Pictured here (from top down): (L to R) Co-chair Bumpty McGrath, Don Brown from CAP, and co-chair Lorraine Mohan; food for baskets; SSC members assemble Thanksgiving baskets.

Photos by J. Murrer