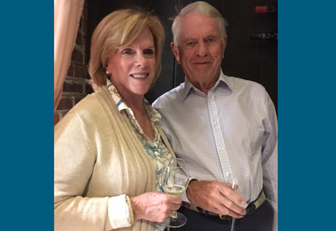 By Joan C. Toffolon, Member, Board of Directors, Gramatan Village

Oct. 26, 2016:  In an effort to support local businesses, Gramatan Village recently hosted two events reflecting its mission to provide services and programs for members of the community so they can lead active, independent, and vibrant lives while living at home in the neighborhood they love.
The first event was held at Bronxville Wine and Spirits on September 15, where Gramatan Village members and friends were treated to an evening of wine-tasting. The theme of the evening was "Old World Meets New World," and the tasting included various wines selected by the owner of the shop, who has a long history in the wine and spirits community.
After the tasting, the owner conducted a quiz for participants based on the remarks he had made about each wine, and those who answered correctly received a bottle of free wine, providing an unexpected element of fun to the evening.
Next was a "Fabulous Over 50" makeup demonstration presented by Hourglass Cosmetics at Bluemercury on October 13. Hourglass makeup artists Lisa and Wendy performed makeovers on the attendees, demonstrating how to accentuate eyebrows and lips with the latest fall shades. There was also a skin care demonstration in which participants learned the importance of keeping skin hydrated so their makeup always looks fresh and natural. 
Bluemercury manager Thomas provided a fun evening for all, and attendees were served champagne and a variety of delicious cheese-and-cracker selections from Dobbs & Bishop, another local business. All participants receive gift certificates and walked away feeling rejuvenated and beautiful!
"Both events provided enjoyable evenings for members of the community and enabled us to show our continuing support of local businesses," said Kerry Walsh, president of Gramatan Village. "As our friends and colleagues at the Bronxville Chamber of Commerce often remind us, shopping locally supports our wonderful community--making our community home."
Gramatan Village is a membership organization that engages community residents who want to remain in the home and neighborhood they love. It provides a network of volunteers, community partnerships, and peer connections that enable members to stay independent and fully engaged in the community. Gramatan Village is recognized as a leader in the National Village Movement.     
For more information on Gramatan Village, join us at our upcoming open house on Wednesday, November 2, from 10:00 am to noon at 85 Pondfield Road to learn about the benefits of membership and volunteer opportunities.
For a calendar of events or to receive our e-newsletter, contact us at 914-337-1338 or  CLOAKING  or visit the website at www.gramatanvillage.org.
Pictured Here: Top photo: Kerry Walsh, Gramatan Village president, Peter Thorp, Gramatan Village board member; second photo:  Maureen Abrams, Gramatan Village member, and Lisa, Hourglass Cosmetics Makeup Artist.

Photos courtesy Gramatan Village