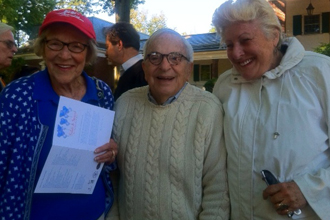 By Julie Dalton, Executive Director, Gramatan Village
Sep. 21, 2016:  Bronxville will hold its fourth annual Salute to Seniors day on Saturday, October 1. This day-long celebration of our older neighbors is co-sponsored by the Senior Citizens Council, Gramatan Village, NewYork-Presbyterian/Lawrence Hospital, and the Bronxville Rotary Club.
All are encouraged to join this special day for our older friends and relatives. It's a great way to learn about community resources and services that support older residents and is especially valuable for those who may be new to the area or concerned about an aging parent or friend.
A number of community organizations will have informational tables along Pondfield Road from 10:30 am to noon. Three popular restaurants, Underhills Crossing, Fogarty's, and Park 143 Bistro, will offer "silver plate lunch specials."
At 2:00 pm, the public is invited to the opening reception of the Speeders 55+ Art Show in the Yeager Room of the Bronxville Public Library. This is the second year that the Bronxville Adult School, Bronxville Public Library, Bronxville Senior Citizens, and Gramatan Village will present this art show as part of the Salute to Seniors festivities. Local artists over the age of 55 will be showcasing works in a variety of media. All are welcome to attend and enjoy light refreshments and a free raffle!
Salute to Seniors marks the end of International Active Aging Week. Held each year during the last week of September, International Active Aging Week helps spread the International Council on Active Aging® message that adults ages 50 and older are fully participating members of society, while promoting the benefits of leading an active, healthier lifestyle. 
From September 25 to October 1, Gramatan Village and the Bronxville and Tuckahoe Senior Citizens will offer programs open to the public that promote healthy lifestyles. 
For more information about Salute to Seniors, email  CLOAKING .
Pictured here:  Bronxville seniors Mary Turino, Bill Turino Thorp, and Marian Moore.  

Photo courtesy Julie Dalton, Executive Director, Gramatan Village