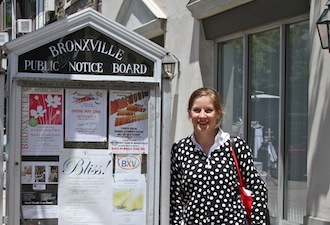 August 24, 2011:  While walking in town last week with our wonderful Mayor Mary Marvin, a business owner stopped her--people always stop Mayor Marvin!--to tell her how wonderful the Village looks these days.  He is right!  The recent road resurfacing of Kraft Avenue and its new sidewalks look beautiful.  There are flowers blooming everywhere you look.  Bronxville is a sight to behold!  Many thanks to our hardworking Department of Public Works and to our store owners for maintaining the town so well!
Speaking of our mayor, she will be my guest this Wednesday on the Chamber of Commerce's radio show.  Tune your radios to WVOX 1460 AM on Wednesday at 11:30 am.  Of course, our conversation will be about Bronxville business!
Our third and final summer concert takes place this Thursday, August 25, on the southbound side of the train station.  Come join us as we rock the town one last time this year!  Entertainment for the evening is provided by Third Stone, a local band renowned for its great mix of classic rock and rhythm and blues.  Scarborough Fair and Chantilly Patisserie will offer food and beverages for your dining pleasure, and, as always, you may bring a picnic.  The fun begins at 6:30 pm and continues until 8:30 pm.  What a way to end the summer!
The Chamber of Commerce is pleased to announce that we have two new members:

Breezeway (80 Kraft Avenue, 914-337-7333) is an accessories shop that was opened this spring by Bronxville native Susan Altieri.
Pepe Cadillac (1245 Central Park Avenue, 914-378-3444) is an auto dealership that sells and services new and used Cadillacs.
We welcome them to our membership and wish them much success in our community!
No Stone Unturned, the place to make your own jewelry or buy some beautiful and unique pieces, is now online!  Please visit their new online shop, www.no-stone-unturned.com.  Now you can shop from the comfort of your own home and at your leisure!
Arista Camera and Imaging is hosting a reception for the intriguing Rafael Rodriguez on Wednesday, August 24, from 6:00 pm to 7:30 pm.  Mr. Rodriguez is a photographer, singer/actor/songwriter, gourmet chef, and massage therapist who has travelled extensively in Mexico, Peru, Greece, and Egypt.  His photographs represent his travels and his unique eye in capturing the things he has witnessed.  Originally from Rockland County, where he graduated from Ramapo HS in 2003, Mr. Rodriguez now resides in Santa Fe, New Mexico.
Take advantage of all of the summer sales around the Village.  They are soon to be replaced with back-to-school signs, sad to say, which always signals the end of summer.
The other signal is fall sports preseason practice!  Bronxville will soon be buzzing again!
Hope to see you all on Thursday evening!
Peggy