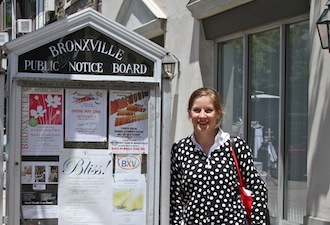 August 17, 2011:  I was out of town at the beach last week and came back to a flurry of emails about wonderful end-of-summer--sad, but true!--sales in and around town.  Some of our stores were closed for part of the summer, but all will be open come September, and they anticipate assisting all of us with our fall shopping needs!
At Weezie D, all summer clothing is on sale.  You will save 50% off all swimsuits, all cover-ups, and all summer bags!
J.McLaughlin is hosting its summer sale, and it will have you running to the store! Many of its gorgeous fashions are available for one-third of the regular price!
Toney Toni and the Gang is running a summer sale on many of its beautiful warm weather styles.
The Silk Road's end-of-summer sale begins August 18.  Take advantage of 20 to 70% off summer tops and jackets, assorted rings and necklaces, select floral arrangements, floor sample rugs, tablecloths and napkins, and furniture.
The Bronxville Adult School has announced its fall schedule of classes, many of which are being taught by our Chamber members!  Look for the fall course catalog in the next week or two.  Here is a preview of some of the good things to come:
September
1. Two photography classes on the basics with Arista Camera
2. Preparing Your Garden for Winter with Leonard Pouder of Lieb's Nursery and Garden Center
3. Holiday Flower Arranging with Mary Tryforos of Tryforos & Pernice
4. Friday yoga classes with Mary Beltran start at The Bronxville Women's Club
5. Bridge classes with Sylwia McNamara and David Yates start at The Reformed Church and The Bronxville School
6. Cooking classes start (using fresh, local ingredients from the Farmers' Market)
October

1. Maximize the Investment You Live In - Priscilla Toomey of Bronxville-Ley Real Estate
2. Get the Most Out of Your DSLR Camera: Advanced - Arista Camera
3. Internet Marketing Basics for Small Businesses - Bridget Gibbons of Gibbons Digital and Eben Thurston of Spring Marketing Strategies
4. Festive Fondue and Wine Tasting - Wine and Spirits Emporium and Dobbs & Bishop Fine Cheese
5. How to Be an Executor - David Otis Fuller, Jr., of Bosworth, Gray & Fuller
6. Savvy Social Security for Boomers - Jim Van Metter of James Van Metter Wealth Management
7. Cupcake Chic - Maria and Mariana Delgado of Chantilly Patisserie
8. Van Gogh and Gauguin in Arles - Jerrilynn Dodds, dean of Sarah Lawrence College, at the Bronxville Public Library
November
1. The Four Basic Photography Secrets Revealed - Richard A. Restiano, Sr., of Arista Camera
2. Be a Gift-Wrapping Goddess - Barbara Amar of SilverSpoon
Please join us for our final concert of the summer:  mark your calendars for Thursday, August 25.  The Chamber of Commerce, in conjunction with sponsors Underhills Crossing and Dr. Joseph F. Manzi, DDS, invite you to mosey over to the west side to Leonard Morange Square on Thursday, August 25, to mingle and enjoy the music of Third Stone, a local favorite!  Feel free to bring a picnic or sample some treats from Scarborough Fair.  We promise you a wonderful night!
I hope to see you in the Village!
Peggy Conway