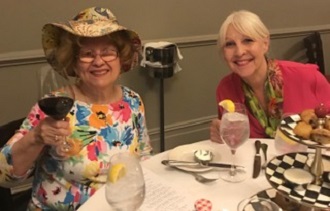 By Sherry Saturno, Executive Director, Gramatan Village
Jul. 24, 2019:  Gramatan Village members participated in a festive celebration of summer and friendship at a brunch at Underhills Crossing restaurant on Saturday, July 13. 
Village members were joined by volunteers Leana Walsh, Ann Marie Mazzucco, and Sue Brownie, board member Susan Salerno, and Executive Director Sherry Saturno to welcome midsummer and socialize.
New members mingled with founding members as they chatted and laughed together. Executive Director Sherry Saturno stated, "We are so grateful to Underhills Crossing for providing such a wonderful venue for our members. Everyone enjoyed a beautiful afternoon spent with good friends and delicious food."
Gramatan Village is a 501(c)(3) non-profit organization that supports adults ages 55 and up who want to age in the home and neighborhood that they love.
Photo courtesy Gramatan Village
Editor's note: As a public service, MyhometownBronxville publishes articles from local institutions, officeholders, and individuals. MyhometownBronxville does not fact-check statements therein, and any opinions expressed do not necessarily reflect the thinking of its staff.