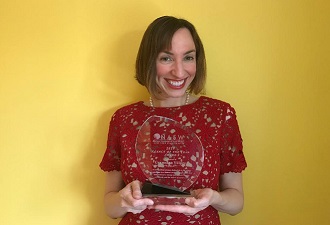 By Sherry Saturno, Executive Director, Gramatan Village
Jul. 17, 2019:  Empowered aging-in-place community Gramatan Village has won the 2019 Agency of the Year Award for the State of New York from the National Association of Social Workers. The award is given annually to an organization that provides outstanding services and exemplary advocacy and demonstrates innovation in programming.
Gramatan Village's executive director, Sherry Saturno, attended the National Association of Social Workers of New York State's annual conference in Saratoga Springs this June, and accepted the award on behalf of Gramatan Village. Saturno stated, "Gramatan Village is deeply grateful to the National Association of Social Workers for this honor and to our amazing members, board, volunteers, and staff. As we grow older, we may become indoctrinated to believe we somehow become less as we age. Less visible, less relevant, less significant. Gramatan Village repudiates that concept every day. On behalf of the vibrant older adults that we represent, thank you to the NASW for seeing us and hearing us."
Pictured here: Sherry Saturno with the 2019 Agency of the Year Award.
Photo courtesy Gramatan Village
Editor's note: As a public service, MyhometownBronxville publishes articles from local institutions, officeholders, and individuals. MyhometownBronxville does not fact-check statements therein, and any opinions expressed therein do not necessarily reflect the thinking of its staff.