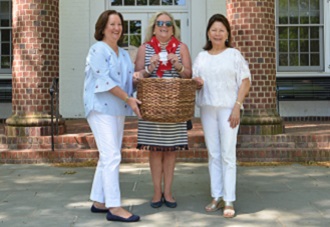 By Kathleen Winter, Parking Raffle Chair, Senior Citizens Council
May 29, 2019:  Following the 99th annual Memorial Day parade, on a glorious day, Mayor Mary Marvin stood in front of Bronxville Village Hall and drew the winner of the annual free parking space raffle from an overflowing basket of ticket stubs. After reaching deep into the basket, she pulled a ticket and unfolded it. The ticket bore the name of Joe Houlihan, this year's winner.
The Senior Citizens Council organizes the raffle each year to raise funds to support our senior citizens programs. The council is truly grateful to the Village of Bronxville for very generously contributing the incredible prize for the raffle. The council is also grateful to Citibank, OpaOpa Fresh Greek, and Studio One for their continued support. The council is very appreciative to everyone who bought raffle tickets and sent donations in support of this important fundraiser for our seniors.
Pictured here (L to R):  Kathleen Winter, Mayor Mary Marvin, and Sheila Landsberg.
Photo courtesy Senior Citizens Council

Editor's note: As a public service, MyhometownBronxville publishes articles from local institutions, officeholders, and individuals. MyhometownBronxville does not fact-check statements therein, and any opinions expressed therein do not necessarily reflect the thinking of its staff.