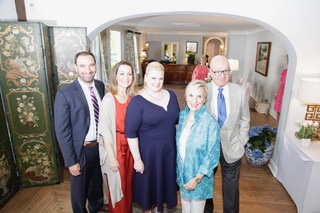 By Sherry Saturno, Executive Director, Gramatan Village
May 29, 2019:  Paige Nagle, a dedicated Bronxville community member, was honored at Gramatan Village's annual May Magic 2019 benefit on Wednesday, May 15, at the Bronxville Field Club. The event was co-chaired by Helen Gerken and Xandi Samra. John Byrne, Robert Krause, Katie Nagle, Steven Palm, Michael Pollack, and Peggy Theiss served on the honorary event committee.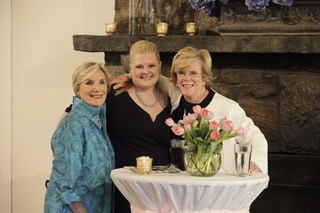 Paige Nagle, Katie Nagle, and Kerry Walsh, president of the Board of Gramatan Village.
The event proved to be a tremendous success, drawing a crowd of over 240 guests. Paige was presented with the J. Rockhill Gray Award for her outstanding community service by the Reverend Michael A. Bird, rector of Christ Church Bronxville. Paige's husband, Art Nagle, daughter Katie Nagle, son, Chris Nagle, and daughter-in-law, Candace Nagle, were in attendance.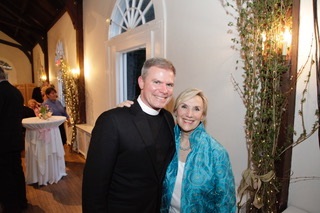 Reverend Michael Bird and Paige Nagle.
As an avid volunteer and active member of the community, Paige has served with many local charities and civic organizations and is an especially active parishioner of Christ Church Bronxville. She has been an enthusiastic member of the musical therapy ensemble The Song Pipers, which performed at the event, for almost forty years. She donates her time, talent, and treasures where she thinks doing so might help others.
Gramatan Village's president, Kerry Walsh, said, "Paige brings happiness, joy, laughter, and fun to all of us. She is a shining example of spreading sunshine to all." Gramatan Village's executive director, Sherry Saturno, remarked, "Frank Lloyd Wright once said, 'The longer I live, the more beautiful life becomes.' That notion is proved true to me every day by our members through their zest for life, enthusiasm, and community engagement. Thank you, Paige, for your amazing dedication to the community."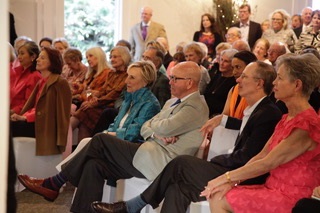 May Magic attendees listening to Reverend Michael Bird speak.
Reverend Bird commented on how profoundly Paige's commitment to helping others has brought so much to the Bronxville community. 
Pictured at top:  Nagle family; Paige Nagle is second from right. 
Photos courtesy Gramatan Village


Editor's note: As a public service, MyhometownBronxville publishes articles from local institutions, officeholders, and individuals. MyhometownBronxville does not fact-check statements therein, and any opinions expressed therein do not necessarily reflect the thinking of its staff.