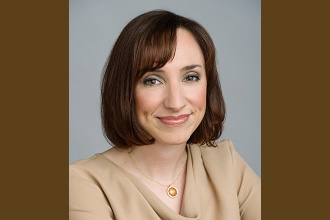 By Sherry Saturno, Executive Director, Gramatan Village
May 15, 2019:  Gramatan Village's executive director, Sherry Saturno, served as a featured presenter at NonProfit Westchester's 17th Annual Leadership Summit on May 6 at the Doubletree Hotel in Tarrytown.
Presented by the Business Council of Westchester and the United Way of Westchester and Putnam, the summit provided a unique opportunity for nonprofits, academia, business, and government to focus on collaboration to strengthen our communities.
Saturno led a workshop titled Building Vibrant Communities by Investing in Social Infrastructure, which was about how a strong social infrastructure leads to healthier individuals and flourishing communities.
Saturno was joined by Purchase College professor emerita Thomasenia Myers, and over 600 people attended the event. Saturno, a diplomate in clinical social work, was recently appointed a lecturer at Columbia University School of Social Work.
Pictured here: Sherry Saturno.
Photo courtesy Gramatan Village
Editor's note: As a public service, MyhometownBronxville publishes articles from local institutions, officeholders, and individuals. MyhometownBronxville does not fact-check statements therein, and any opinions expressed therein do not necessarily reflect the thinking of its staff.