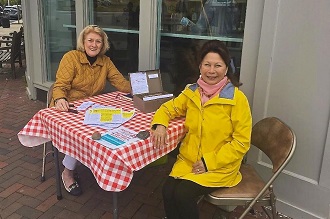 By Staff
May 8, 2019:  A few raindrops on Friday did not dampen the mood of Senior Citizens Council members who were selling raffle tickets for the 2019 parking raffle. The council holds the raffle every year. The winner, who is picked on Memorial Day weekend, will have free parking at any meter in Bronxville for a year. The Village of Bronxville generously donates the prize. 
Raffle tickets will continue to be sold by volunteers from the Bronxville Senior Center and members of the Senior Citizens Council through Memorial Day. Tables will be set up in front of Citibank and the OpaOpa Fresh Greek Restaurant, both on Pondfield Road, on Fridays and Saturdays from 10:00 am to 2:00 pm. Tickets are $3.00 each, $5.00 for two, and $15.00 for a book of six. The winner does not have to be present at the time of the drawing to win.
Proceeds from the raffle will support the Senior Citizens Council, the parent organization that oversees the Bronxville and Tuckahoe Senior Centers. Their programs are offered to over 500 members and are designed to help maintain and enrich the members' quality of life.
Pictured here (L to R): Veronica Darcy and Sheila Landsberg selling raffle tickets for the annual Senior Citizens parking raffle. 
Photo by J. Murrer
Editor's note: A member of the staff of MyhometownBronxville is on the board of directors of the Senior Citizens Council.