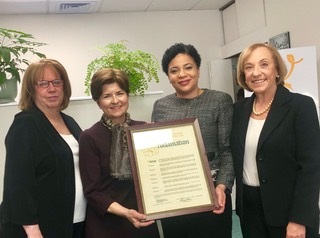 By Sherry Saturno, Executive Director, Gramatan Village
May 1, 2019:  Gramatan Village has been recognized for providing exemplary service to elders through the awarding of four official proclamations from County Executive George Latimer, State Senator Andrea Stewart-Cousins, and State Senator Shelley B. Mayer.
At the Women's History Month celebration on March 29, representatives of the elected officials presented the executive committee of the board of directors of Gramatan Village, MaryAnne Denniston, Tracy Lilly, and Joan Toffolon, with proclamations in recognition of outstanding contributions on behalf of elders, volunteerism, and community engagement.
Crystal Collins presented on behalf of County Executive George Latimer; Symra Brandon conferred on behalf of Senator Stewart-Cousins; and Noel Casey bestowed on behalf of Senator Mayer.
Gramatan Village's executive director, Sherry Saturno, also received a proclamation for exemplary service as a community leader from Senator Mayer.
Pictured here (L to R): MaryAnne Denniston, Tracy Lilly, Crystal Collins, and Joan Toffolon.
Photo courtesy Gramatan Village
Editor's note: As a public service, MyhometownBronxville publishes articles from local institutions, officeholders, and individuals. MyhometownBronxville does not fact-check statements therein, and any opinions expressed therein do not necessarily reflect the thinking of its staff.